Middle School Earth Science Curriculum - FULL YEAR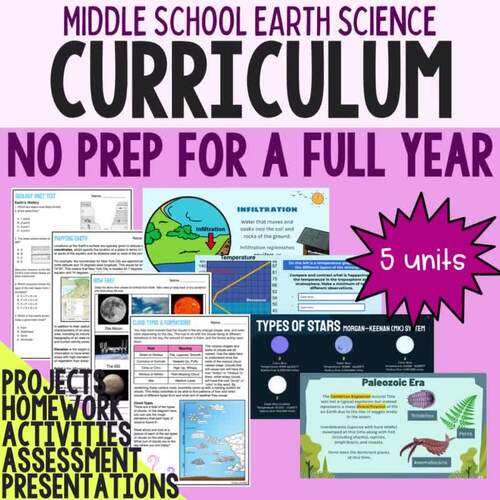 ;
Includes Google Apps™
This bundle contains one or more resources with Google apps (e.g. docs, slides, etc.).
Easel Activities Included
Some resources in this bundle include ready-to-use interactive activities that students can complete on any device. 
Easel by TPT is free to use!
Learn more
.
Easel Assessment Included
Some resources in this bundle include self-grading quizzes that students can complete on any device. 
Easel by TPT is free to use!
Learn more
.
Products in this Bundle (133)
showing 1-5 of 133 products
Description
Is lesson planning just too much on top of teaching on top of grading on top of classroom management on top of *ahem* living your life?  Get all the guidance you need to teach a full year earth science course either in person, hybrid, or virtual with my all inclusive curriculum bundle! 
This curriculum will save you time, engage your students, and wow your administrators!
Included Units:
Each unit contains:
Pacing
Google Slides Presentations
Worksheets in both print and digital formats
Assessment in both print and digital formats (Note, some assessments are still being added. These will be ready for the 2023-2024 school year!)
Projects
Links to tons of additional ideas from real teachers
Bell ringers also included:

More Helpful Resources included:
Who is this resource for?
This curriculum is for new teachers, long term subs, homeschoolers, or anyone who wants to press the easy button on life!
This resource is best for educators in schools with access to internet and it uses Google apps for al digital components (Google Slides, Google Docs, Google Forms).
What's Included?
Most of the resources in this curriculum will be downloaded as a PDF file in color. If a digital file is connected to that resource, as it is in most cases, you will find the link in a large font on page 2 of the PDF. For resources that are printer friendly, the remaining pages of the PDF can be printed and copied. All relevant resources include an answer key at the end of the file. 
I do not use zip files, instead I package my resources in PDFs as a single document from start to finish. Make sure to scroll through the entire resource if you're looking for an answer key or alternate version!
Please take a look at the individual product and bundle preview files to see more of the resources included in this bundle.
How do I teach this curriculum? 
Grab the free curriculum pacing guide that corresponds to this unit by downloading it here in PDF format. This pacing guide includes:
Unit pacing
Weekly suggested resources
Essential Questions
Key Takeaways
Suggestions for additional resources/phenomena
Possible extensions
What if I'm not sure?
Feel free to dip just a toe in first by trying one of my complete units before buying the full year curriculum!
All of my unit guides are free, so you can download those at any time to get an idea of pacing and to learn more about the included resources.
For questions and support:
Email me at laneyleeteaches@gmail.com! I'm always quick to respond and help in any way I can.
---------------------------------------------------------------------------------------------------------------
My Other Full Year Curriculums:
---------------------------------------------------------------------------------------------------------------
To stay updated on sales and new products, please follow my store:
Connect and chat with me!
Report this resource to TPT
Standards
to see state-specific standards (only available in the US).
Construct a scientific explanation based on evidence from rock strata for how the geologic time scale is used to organize Earth's 4.6-billion-year-old history. Emphasis is on how analyses of rock formations and the fossils they contain are used to establish relative ages of major events in Earth's history. Examples of Earth's major events could range from being very recent (such as the last Ice Age or the earliest fossils of homo sapiens) to very old (such as the formation of Earth or the earliest evidence of life). Examples can include the formation of mountain chains and ocean basins, the evolution or extinction of particular living organisms, or significant volcanic eruptions. Assessment does not include recalling the names of specific periods or epochs and events within them.
Analyze and interpret data on the distribution of fossils and rocks, continental shapes, and seafloor structures to provide evidence of the past plate motions. Examples of data include similarities of rock and fossil types on different continents, the shapes of the continents (including continental shelves), and the locations of ocean structures (such as ridges, fracture zones, and trenches). Paleomagnetic anomalies in oceanic and continental crust are not assessed.
Analyze and interpret data on natural hazards to forecast future catastrophic events and inform the development of technologies to mitigate their effects. Emphasis is on how some natural hazards, such as volcanic eruptions and severe weather, are preceded by phenomena that allow for reliable predictions, but others, such as earthquakes, occur suddenly and with no notice, and thus are not yet predictable. Examples of natural hazards can be taken from interior processes (such as earthquakes and volcanic eruptions), surface processes (such as mass wasting and tsunamis), or severe weather events (such as hurricanes, tornadoes, and floods). Examples of data can include the locations, magnitudes, and frequencies of the natural hazards. Examples of technologies can be global (such as satellite systems to monitor hurricanes or forest fires) or local (such as building basements in tornado-prone regions or reservoirs to mitigate droughts).
Construct a scientific explanation based on evidence for how the uneven distributions of Earth's mineral, energy, and groundwater resources are the result of past and current geoscience processes. Emphasis is on how these resources are limited and typically non-renewable, and how their distributions are significantly changing as a result of removal by humans. Examples of uneven distributions of resources as a result of past processes include but are not limited to petroleum (locations of the burial of organic marine sediments and subsequent geologic traps), metal ores (locations of past volcanic and hydrothermal activity associated with subduction zones), and soil (locations of active weathering and/or deposition of rock).
Construct an explanation based on evidence for how geoscience processes have changed Earth's surface at varying time and spatial scales. Emphasis is on how processes change Earth's surface at time and spatial scales that can be large (such as slow plate motions or the uplift of large mountain ranges) or small (such as rapid landslides or microscopic geochemical reactions), and how many geoscience processes (such as earthquakes, volcanoes, and meteor impacts) usually behave gradually but are punctuated by catastrophic events. Examples of geoscience processes include surface weathering and deposition by the movements of water, ice, and wind. Emphasis is on geoscience processes that shape local geographic features, where appropriate.