Middle School Engineering Design Process Unit and Activities for STEM and Scienc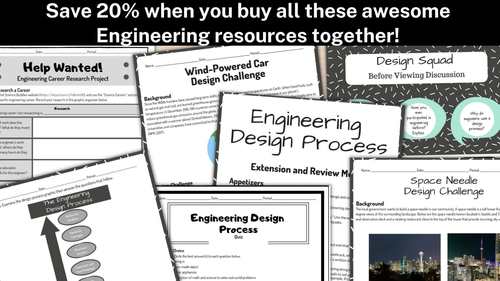 ;
Zip

Google Apps™
Includes Google Apps™
This bundle contains one or more resources with Google apps (e.g. docs, slides, etc.).
Easel Activities Included
Some resources in this bundle include ready-to-use interactive activities that students can complete on any device. 
Easel by TPT is free to use!
Learn more
.
What educators are saying
Well-paced and designed. Teacher guide offers support and guidance. Always awesome materials from this seller!
This is an amazing resource! The questions are great- and the slides are perfect! My class was totally engaged. Thank you so much for creating this unit!!
Products in this Bundle (13)
showing 1-5 of 13 products
Bonus
Engineering Design Process Unit - Teacher Notes
Description
Introducing middle school students to the engineering design process can be tricky! This complete unit will engage your students and help them master the engineering design process while having lots of fun! The bundle includes over 200 pages of resources that can be used individually where they best fit within your STEM course or taught in sequence as a 5-week middle school engineering design process unit. 
Grab these lessons today to get back your nights and weekends while knowing your students will be engaged in learning the fundamentals of engineering!
_______________________________________________________________________________
What's included in the middle school engineering design process unit?
Wind-Powered Car STEM Challenge - In this activity, students will learn about climate change and use the engineering design process to build a car powered by renewable wind energy.
Intro to the Engineering Design Process - In this lesson, students will learn about the engineering design process as a problem-solving strategy. They will examine each step and make connections to STEM challenges.
PBS Design Squad Movie Guide and Activities - Use this resource as students watch an episode of PBS Kids' Design Squad. Students will identify each step of the engineering design process as they watch high school students compete to solve an engaging design challenge!
Engineering Design Process Choice Board - In this activity, students will choose between 9 different virtual and unplugged activities to reinforce and extend their understanding of the engineering design process.
Engineering Design Process Quiz - This assessment includes 10 multiple choice and short answer questions. It can be used as an informal or formal assessment of your students' mastery of the engineering design process.
STEM Group Roles - This lesson teaches middle school students how to cooperate and collaborate during STEM challenges and makes connections to real-world STEM careers.
Space Needle STEM Challenge - In this activity, students are commissioned to design and build a model space needle for their town or city. They will apply what they've learned about the engineering design process to develop a solution.
Engineering Careers Research Project - In this project, students will research an engineering career of their choice. Then they will create a job advertisement for that career, and present it to the class in a gallery walk activity.
Included Bonus Material:
An engineering design process rubric that can be used with any middle school STEM challenge
Supply lists for stocking your STEM lab with materials that work for a wide range of STEM challenges
Donation letters to help get supplies donated by your students' families and community members
Suggestions for where to find free or low-cost materials for STEM challenges
Each of the middle school engineering design process activities described above also has:
✔ Printable, Google, and Easel versions of the student activities and worksheets
✔ Detailed lesson plans and slideshows for easy lesson facilitation
✔ Easy-to-use grading rubrics and assessments
✔ Flexible building materials (use what you have in the cupboard!)
Click on the "Bonus File" Preview for more information about the resources included in this unit and how to use them!
_______________________________________________________________________________
What are other teachers saying?
★★★★★
"This has been the best unit to kick off the school year! Well organized and awesome teacher notes for easy implementation!"
★★★★★
"This was amazing! Not only did the students love each engineering lab, but it also aligned with all the engineering design process standards - making this such an awesome 6 weeks of learning in my classroom! I would 10/10 recommend it!"
★★★★★
"Very engaging unit. A variety of activities for the kids to do and very easy to use!"
★★★★★
"LOVE THIS! It was so helpful when I do not have time to prep. AMAZING resource."
_______________________________________________________________________________
How can the engineering design process resources be used in your classroom?
Teach each lesson in the suggested sequence as a 5-week introduction to middle school engineering and the engineering design process
Use the lessons individually where they fit within your existing STEM curriculum
Leave the lessons as emergency STEM sub plans
Assign the lessons to be completed on virtual or asynchronous learning days
Use the resources as STEM extra credit, holiday break packets, or extension activities
_______________________________________________________________________________
Feedback
Did you know you can earn credit towards future TPT purchases by leaving a review? If you download this product, please come back and leave a review on the product page or through "My Purchases" under "My Account" at TPT.
_______________________________________________________________________________
Product Recommendations
If you liked this product, check out:
♦
♦ Middle School STEM Challenges
_______________________________________________________________________________
Let's stay in touch!
If you have any questions about this product or my store, please send me an . I'd love to hear from you! Follow me on TPT for monthly FLASH FREEBIES!
Email trilby@steminthemiddle.net
Answer Key
Included with rubric
Teaching Duration
1 month
Report this resource to TPT
Standards
to see state-specific standards (only available in the US).
Evaluate competing design solutions using a systematic process to determine how well they meet the criteria and constraints of the problem.
Develop a model to generate data for iterative testing and modification of a proposed object, tool, or process such that an optimal design can be achieved.
Define the criteria and constraints of a design problem with sufficient precision to ensure a successful solution, taking into account relevant scientific principles and potential impacts on people and the natural environment that may limit possible solutions.
Apply scientific principles to design a method for monitoring and minimizing a human impact on the environment. Examples of the design process include examining human environmental impacts, assessing the kinds of solutions that are feasible, and designing and evaluating solutions that could reduce that impact. Examples of human impacts can include water usage (such as the withdrawal of water from streams and aquifers or the construction of dams and levees), land usage (such as urban development, agriculture, or the removal of wetlands), and pollution (such as of the air, water, or land).