Middle School Escape Room | Middle School Transition Lesson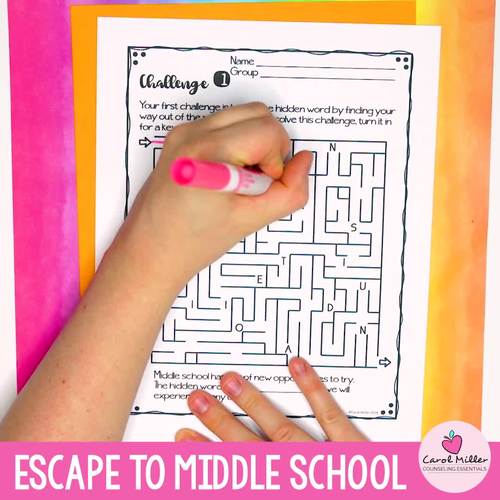 ;
What educators are saying
My students absolutely loved this! They had a blast and I would recommend this resource to everyone!
This activity was right on time with my 5th graders. I will use this every year. They really enjoyed it.
Also included in
The Middle School Transition Bundle has four helpful resources to help students make a successful transition to middle school. All About Middle School Transition Quiz Show, is a middle school transition lesson modeled after a popular prime-time TV Quiz Show, helps talk to 4th, 5th, and 6th grade cl

Price $18.00

Original Price $23.50

Save $5.50

The Middle School Classroom Guidance Lesson Bundle gives you 57 classroom lessons-- enough for a whole year! Goal Setting, Motivation, Cyber Safety, Career Planning, Friendship, Empathy, Coping Skills, Rumors and Gossip, Transition To and From Middle School, and Social Skills are just some of the t

Price $178.00

Original Price $253.25

Save $75.25
Description
Are your kids nervous about starting middle school? Do they have questions about what's going to be different, how hard it is or how they can make new friends? This Escape To Middle School is a fun transition activity for students starting middle school that will help them feel more at ease with the transition headed their way. Students will explore the differences between elementary school and middle school and look at ways to find success as a student in their new building.
●●● To begin the escape, students are given a scenario where they will be sent back in time unless they can work together to solve the challenges, release the keys for completing each challenge and using those keys to solve the secret code to their escape.
►► 5 Challenges include ways to make new friends, having a positive mindset about middle school, supplies needed, and how to be organized. Puzzles come In both color and ink saving Black and White versions.
► Includes:
✅ Table of Contents
✅ Lesson Plan with ASCA Standards
✅ Teacher Notes
✅ Group Envelope Packing Slip
✅ Envelope Packing Labels
✅ Group Name/Final Key Sheet
✅ Final Thoughts Reflection Sheet
✅ The Challenge
✅ Hint Needed Sheets
✅ The Challenge Directions
✅ 5 Challenges
✅ Decoder Key
✅ I Escaped Awards
✅ Teacher Answer Sheets
▶▶ Check out the preview to see everything included!
❤️ ❤️
⭐️⭐️⭐️⭐️⭐️ ❝My fourth graders loved this activity! They enjoyed all the puzzles and it answered so many questions for them regarding middle school, thank you! ❞ ~ Alisha W.
⭐️⭐️⭐️⭐️⭐️ ❝My 5th graders love this activity! This is a fun way to way to wrap up our transition to middle school activities and the school year. It is also great after our previous lessons on growth mindset. So organized too.❞ ~Melissa M.
⭐️⭐️⭐️⭐️⭐️ ❝I LOVE THIS RESOURCE. It was a fun and engaging way for my students to think about middle school.❞ Lorie Y.
………………………………………………………………………………………………………………………………………………………………………
► ► Love Escape Rooms? Check these out:
………………………………………………………………………………………………………………………………………………………………………
▶ Don't forget to follow along!
© Carol Miller - Counseling Essentials
Report this resource to TPT