Middle School Life Science Curriculum - FULL YEAR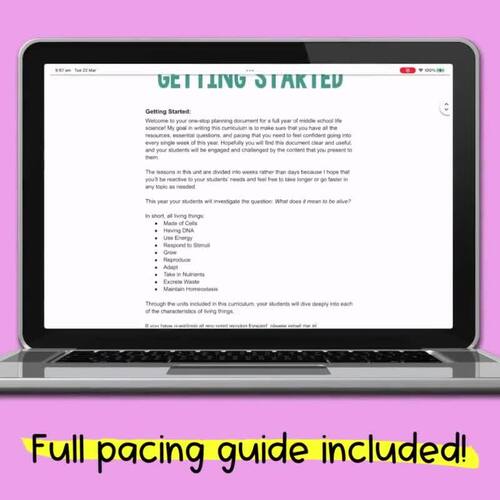 ;
Zip

Google Apps™
Includes Google Apps™
This bundle contains one or more resources with Google apps (e.g. docs, slides, etc.).
Easel Activities Included
Some resources in this bundle include ready-to-use interactive activities that students can complete on any device. 
Easel by TPT is free to use!
Learn more
.
Easel Assessment Included
Some resources in this bundle include self-grading quizzes that students can complete on any device. 
Easel by TPT is free to use!
Learn more
.
What educators are saying
So many great resources! I particularly like the guided reading in order to bring science to their minds in other ways. Great activities. The pacing plans were a huge help! Highly recommend!
As a graduate biology teacher, this really helped me when I was planning my lessons as amazing worksheets, quizzes, and additional resources. Thank you!
Products in this Bundle (182)
showing 1-5 of 182 products
Description
Is lesson planning just too much on top of teaching on top of grading on top of classroom management on top of *ahem* living your life?  Get all the guidance you need to teach a full-year science course in person, hybrid, or virtual with my all-inclusive curriculum bundle! 
This curriculum will save time, engage your students, and wow your administrators!
Included Units:
Each unit contains:
Google Slides Presentations
Worksheets in both print and digital formats
Assessment in both print and digital formats
Projects
Labs
Bell ringers also included:

More Helpful Resources included:
Who is this resource for?
This curriculum is for new teachers, long-term subs, homeschoolers, or anyone who wants to press the easy button on life!
This resource is best for educators in schools with access to the internet, and it uses Google apps for all digital components (Google Slides, Google Docs, Google Forms).
What's Included?
Most of the resources in this curriculum will be downloaded as a PDF file in color. If a digital file is connected to that resource, as in most cases, you will find the link in a large font on page 2 of the PDF. For resources that are printer-friendly, the remaining pages of the PDF can be printed and copied. All relevant resources include an answer key at the end of the file. 
I do not use zip files, instead, I package my resources in PDFs as a single document from start to finish. Scroll through the entire resource if you're looking for an answer key or an alternate version!
Please look at the individual product and bundle preview files to see more of the resources included in this bundle.
How do I teach this curriculum? 
You can grab the free curriculum pacing guide that corresponds to this unit by downloading it here in PDF format. This pacing guide includes:
Unit pacing
Weekly suggested resources
Essential Questions
Key Takeaways
Suggestions for additional resources/phenomena
Possible extensions
What if I'm not sure?
Feel free to dip just a toe in first by trying one of my complete units before buying the full year curriculum!
All of my unit guides are free, so you can download those at any time to get an idea of pacing and to learn more about the included resources.
---
For questions and support:
Email me at laneyleeteaches@gmail.com! I'm always quick to respond and help in any way I can.
---
My Other Full Year Curriculums:
---
To stay updated on sales and new products, please follow my store:
Connect and chat with me!
Report this resource to TPT