Middle School STEM Career Exploration Curriculum: 30 no-prep, hands-on lessons!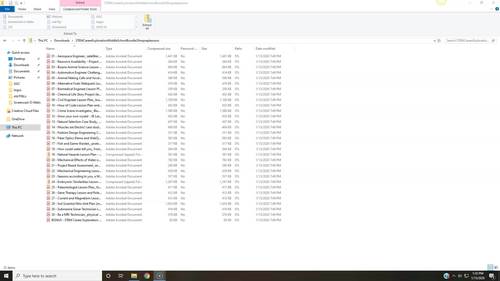 ;
What educators are saying
This resource has great activities! Some I was even able to incorporate into my 9th-grade anatomy class! Thank you.
Products in this Bundle (30)
showing 1-5 of 30 products
Bonus
Educator's Guide & Student Career List
Description
Are you looking for easy ways to integrate STEM career exploration and make your NGSS lessons more relevant and engaging? With this introductory STEM career exploration curriculum, turn every lesson into a STEM lesson, and effortlessly make career connections!
Featuring over 300 pages worth of engaging investigations and inquiry-based activities, this career-infused middle school STEM curriculum will expose your students to STEM careers, engage them in the practices and skills required in such professions, and connect seamlessly into your existing curriculum, or use it as a standalone STEM career exploration curriculum! All lessons and corresponding careers are aligned with middle school Disciplinary Core Ideas (DCIs) of the Next Generation Science Standards (NGSS). The majority of these lessons are designed for in-person learning, but some are appropriate for distance learning, marked as (distance learning) in the product titles. Please see previews by clicking the green 'preview included resources' button above.
Purchase includes:
1. 30 no-prep lesson plans written in 5E format, all with associated student worksheets, answer keys, online career exploration activities, and more! GET A FREE SAMPLE LESSON FROM THIS CURRICULUM HERE
2. Educator's guide with included lessons in alphabetical order, and according to NGSS standard and NGSS DCIs [click the green 'preview' button above to download a sample of this Educators Guide]. Also includes instant access to online career exploration resources via links to all STEM careers profiled in this curriculum (this part is NOT available in the free preview). Provided as a bonus file with purchase to aid in planning and curriculum integration. (3 page PDF)
3. STEM Career List for Students with links to all the online career exploration resources covered in this curriculum (each with virtual job shadow YouTube video, career information inforgraphic in English and Spanish, and fun career focused hands-on activity) (PDF - this is page 3 in the purchased Bonus File)
All activities in this curriculum are designed to be used with limited and basic materials - ex: scissors, paper, tin foil, rubber bands, empty milk jug, cups, etc. None of the lessons require use of 'special' materials.
As a teacher, I found this curriculum to finally be the answer to the dreaded 'Why do I need to know this?' My solution to the engagement problem was real world relevance - the same content delivered through the lens of fun STEM careers. Nearly 300 pages - it worked for me, and I know it will work for you too! To learn more about how to turn every lesson into a STEM career exploration lesson, read my article published by NSTA here.
Here's what one of our customers said:
"So often students default to careers they are familiar with. Career In STEM exposes students to many different careers and encourages them to think outside the nurse/lawyer/vet box. Plus I love that everything is aligned with the NGSS. It helps me to view the standards from a different lens and make my lessons more relevant for students." - Don, 7th-grade teacher
More STEM Career Readiness & Exploration Resources
Want valuable download & go resources to help you effortlessly integrate STEM career exploration? Then get a copy of my FREE Quick Start STEM Career Exploration Kit!
Teaching Duration
Lifelong tool
Report this resource to TPT