Middle School STEM Challenges and Engineering Design Process for Middle School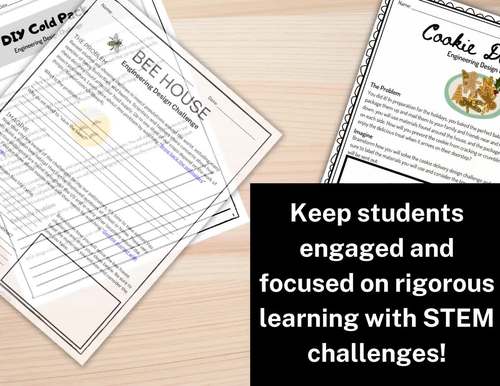 ;
Zip

Google Apps™
Includes Google Apps™
This bundle contains one or more resources with Google apps (e.g. docs, slides, etc.).
Easel Activities Included
Some resources in this bundle include ready-to-use interactive activities that students can complete on any device. 
Easel by TPT is free to use!
Learn more
.
Products in this Bundle (21)
showing 1-5 of 21 products
Description
Middle schoolers can be a tough crowd. Are you struggling to keep your middle school students engaged in rigorous STEM learning? You can promote critical thinking, problem solving, teamwork, and communication skills by teaching the engineering design process with these engaging STEM challenges! 
Each middle school STEM project guides students through the engineering design process, while they work toward solving interesting, real-world problems. Students will demonstrate their mastery of the NGSS Engineering Performance Expectations and explore a wide range of STEM topics and careers.
Grab this bundle today to save your planning and prep time, while knowing your students will be learning and engaged in fun middle school STEM activities!
_________________________________________________________________________
What's included in the middle school STEM challenge bundle?
17 (and counting!) fun STEM challenges, including: 
Animal Prosthesis Challenge: In this activity, students are tasked with designing a prosthetic device to improve an animal client's quality of life.
Bee House Challenge: In this activity, students are tasked with creating a nesting site for mason bees.
Bottle Rocket Challenge: In this activity, students are tasked with designing and testing bottle rockets launched with a baking soda and vinegar reaction.
Cold Pack Design Challenge: In this activity, students will use their knowledge of endothermic and exothermic reactions to design and build a cold pack for the school nurse.
Cookie Delivery Challenge: In this activity, students are tasked with creating a package that can protect a cookie as it is shipped through the mail.
Easter Egg Drop Challenge: In this activity, students are tasked with helping the Easter bunny with new egg delivery technology and creating packages to keep eggs intact as they are dropped from the sky.
Newton's Laws Car Safety Challenge: In this activity, students will use Newton's Third Law to design and build a car that will keep an egg safe as it collides into the wall.
Plant Maze STEM Challenge: In this activity, students learn about phototropism and design and build a plant maze to demonstrate how plants are able to turn toward light.
Snowflake Design Challenge: In this activity, students are tasked with designing a snowflake with six sides and rotational symmetry.
Water Balloon Catapult - In this activity, students are tasked with creating a catapult that can launch water balloons as far as possible.
Each of the STEM challenges described above also has:
✔ Printable, Google and Easel versions of the student activities and worksheets that guide students through the engineering design process
✔ Detailed lesson plans and slideshows for easy lesson facilitation
✔ Easy-to-use grading rubrics and assessments
✔ Flexible building materials, so you can use what you have on hand
✔ Printable certificates for student engineers
✔ Suggestions for building materials, distance learning, and differentiation
Included Bonus Material:
An engineering design process rubric that can be used with any middle school STEM challenge
Supply lists for stocking your STEM lab with materials that work for a wide range of STEM challenges
Donation letters to help get supplies donated by your students' families and community members
Suggestions for where to find free or low-cost materials for STEM challenges
_________________________________________________________________________
What are other teachers saying?
★★★★★
"Well thought out and well developed."
★★★★★
"My kids are loving these!"
_________________________________________________________________________
How can the middle school STEM challenges be used in your classroom?
Practice problem solving with the engineering design process
Learn about real-world STEM disciplines and professions
Supplement NGSS science curriculum by address the engineering practices
Keep students learning and engaged before holiday breaks
Use a challenge to keep students on task when you have unusual schedules or attendance due to field trips, testing, or other interruptions
Give students opportunities to practice 21st century skills, such as communication, collaboration, and critical thinking
Leave the middle school STEM challenges for engaging sub lesson plans
Assign the activities to be completed on virtual or asynchronous learning days
Use the resource for extra credit, a holiday break packet, home learning, or an extension activity
_________________________________________________________________________
Feedback
Did you know you can earn credit towards future TPT purchases by leaving a review? If you download this product, please come back and leave a review at the product page or through "My Purchases" under "My Account" at TPT
_________________________________________________________________________
Product Recommendations
If you liked this product, check out:
_________________________________________________________________________
Let's stay in touch!
If you have any questions about this product or my store, please send me an email. I'd love to hear from you! Follow me on TPT to learn about new products, sales, and freebies!
Email trilby@steminthemiddle.net
Report this resource to TPT
Standards
to see state-specific standards (only available in the US).
Evaluate competing design solutions using a systematic process to determine how well they meet the criteria and constraints of the problem.
Develop a model to generate data for iterative testing and modification of a proposed object, tool, or process such that an optimal design can be achieved.
Define the criteria and constraints of a design problem with sufficient precision to ensure a successful solution, taking into account relevant scientific principles and potential impacts on people and the natural environment that may limit possible solutions.
Analyze data from tests to determine similarities and differences among several design solutions to identify the best characteristics of each that can be combined into a new solution to better meet the criteria for success.