Middle or High School Art Lesson Negative Space Drawing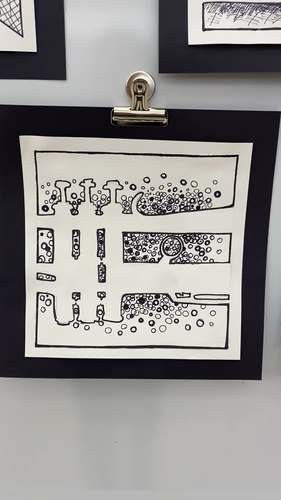 ;
Includes Google Apps™
This bundle contains one or more resources with Google apps (e.g. docs, slides, etc.).
Products in this Bundle (2)
Also included in
This beginner line drawing art lesson bundle will fit into your middle school art or high school art curriculum beautifully. No previous drawing skills are required and even the most apathetic art students can be successful with these confidence-building art projects, activities, and skill-buildin

Price $31.00

Original Price $38.75

Save $7.75

This Beginner Drawing Visual Art Curriculum is perfect for any Introduction to Art or Art 1 Class. It is excellent for middle or high school art classes or your homeschool art curriculum. It will save you tons of time and contains everything you need to teach your students the fundamentals of art

Price $130.00

Original Price $167.00

Save $37.00

This high school art lesson mega bundle was created by customer request. It contains EVERYTHING in my store as of 9/9/2022 . Everything you need to teach any beginner through advanced middle or high school art class is all here and ready to go. Enhance your art curriculum and save time creating s

Price $375.00

Original Price $470.25

Save $95.25
Description
This negative space middle or high school art lesson is a great addition to your art curriculu.m. It is easy to follow and ready to go. This art lesson is excellent for beginners and simple enough for middle school art classes. The reference images, worksheets, and video demonstrations are easy for students to access digitally, save so much time, and students love being able to refer back to them from any device if they miss a class or need a review.
Included in this Negative Space Drawing Bundle:
An instructional negative space drawing handout
7 practice drawing worksheets with rubrics and a link to a video demonstration.
Google Slide and PDF versions included
Scannable QR codes on all worksheets that links to video demonstrations
7 negative space reference images to draw from
Video instruction links on reference images with QR codes students can scan
Rubrics for easy grading.
Expressive Mark Making Pen and Ink Handout
Expressive Mark Making Practice Exercise
The practice worksheets allow students to practice the skill on a small scale before moving onto the larger finished piece. The instructions for the project say to use 9x9 paper however, this can be modified give or take a few inches based on what size paper you and your students have available to them. Drawing the ½ inch border or frame is also optional. Students can use pen, felt tip marker, or any fine point drawing medium.
This project is very versatile and can be modified to your own class needs. You can have students choose which image they would like to draw or you can assign specific images to students. Another fun variation is to have them draw the same image twice and fill the negative space with expressive marks on one drawing and fill in the positive space with marks on the other. Students practice hatching, cross hatching, expressive scribble, stippling, and their own creative marks/patterns.
Need an Easy to Follow Art Sub Plan?
The included worksheets work great as sub plans, early finisher assignments, for students on home instruction or in ISS. They are easy to follow with the linked videos and are easy for substitute teachers or self directed learning when the art teacher is unavailable.
All of my lessons can be shared with your students through Google Classroom or any digital platform and are formatted to work for distance learning or in the classroom. They are designed to save you time and help your students access the tutorials, presentations, videos, or worksheets as easily as possible. You can find more ready to go, easy to follow, timesaving art lessons in my TPT SHOP.
You may also like:
Having difficulty with a file?
Visit the FAQs section, submit a help ticket, or ask a question on the Q& A tab before leaving feedback.
Be the first to know about discounts, freebies and new resources!
• Find me on my blog – Inside Out Art Teacher, or Instagram.
• Click the green star to get email notifications about new resources & sales.
Get TPT credit to use on future purchases:
• Go to your My Purchases page. Click on the Provide Feedback button to leave a rating and a short comment. You'll earn TPT credits, which you can redeem on future purchases!
Report this resource to TPT