Mindfulness Breathing Exercises Posters | Calm Down Corner | SEL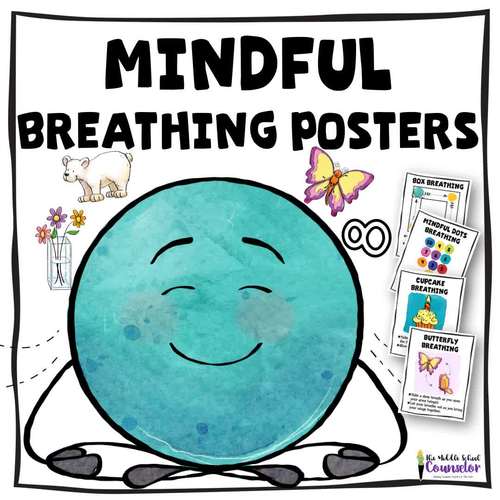 ;
What educators are saying
I use this when working with individual students, especially if they need help regulating their emotions. It's a great visual and tactile reminder about some breathing strategies.
Perfect addition to my Calm Corner! We went over the expectations and have seen multiple students going through the ring of breathing strategies when they go take a break. Thank you so much!!
Description
Looking for posters and handouts for your calming kits and calm down corner? These no prep mindfulness breathing posters and pocket cards are will help your students cool down when they're angry, sad or frustrated by using simple and easy to follow breathing techniques.
●●● It's important for students to learn emotional regulation skills. When students are angry, overly excited, sad or having a hard time regulating their emotions, using a breathing exercise, a body scan or grounding technique can help them to calm down and refocus. Included are 11 posters perfect for the classroom calm down area, finger tracing breathing boards, or classroom lesson centers that focus on breathing exercises. In addition, smaller, pocket sized versions of the breathing exercises can be used in calm down kits, or take home reminders of the skills.
▶ What's Included:
✅ How To Use sheet
✅ 9 Breathing Exercises Posters
✅ Body Scan Poster
✅ Grounding Poster
✅ 9 Pocket Size Breathing Strategy Cards
▶▶ How to use these posters and handouts:
Use them in a classroom or counseling office calm corner. The posters are great visuals for students to try different breathing techniques to calm down.
Copy and laminate the pocket reminders and add to a ring. These are great for kids to use at home or store them in personal calm kits kids can use at their desks.
Use the breathing techniques and body scan in classroom lessons or in counseling groups. They make great breaks and help students refocus before moving on to something new.
❤️ ❤️
⭐️⭐️⭐️⭐️⭐️ ❝This resource was straightforward and easy to use for me to print and for students to use in the calming corner in my classroom.❞ ~ Alison T.
⭐️⭐️⭐️⭐️⭐️ ❝One of my favorite tools as a counselor is teaching kids these skills. They loved having them as a flip chart in the room for finding regulation tools.❞ ~Adetta U.
⭐️⭐️⭐️⭐️⭐️ ❝Love, love, love this resource for the calming corner in my classroom. The posters are user-friendly, attractive, and provide a wide variety of options! I also like having the option to print several strategies on a single page. I have cut them out and put them on a binder ring for students who benefit from having several tools close by.❞ ~Fractions are not my friend
………………………………………………………………………………………………………………………………………………………………………
▶ Need other classroom management help? Check out:
………………………………………………………………………………………………………………………………………………………………………
▶ Don't forget to follow along!
© Carol Miller - Counseling Essentials
Report this resource to TPT