Mindfulness and Coping Videos and Posters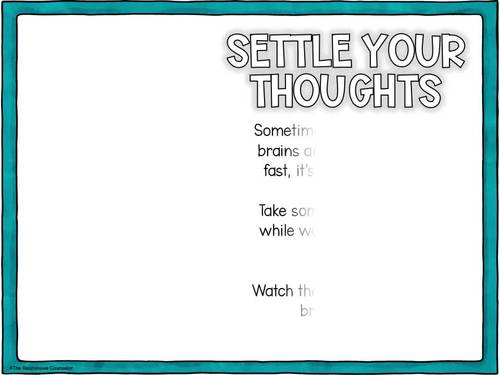 ;
Compatible with Digital Devices
The Teacher-Author has indicated that this resource can be used for device-based learning.
What educators are saying
I have used these visuals countless times. I have made folders, with these visuals, for students to utilize for their break time. Visuals are helpful and appealing. Recommend!
Love, love, love this quality SEL product! Fantastic guided mindfulness , breathing, and calming activities. Multiple format options are greatly appreciated as well. Thank you so much!
Description
This resource is a set of animated slides/videos for leading your students in various breathing strategies, body relaxation skills, and mindfulness activities. They can be used as videos or as printed visuals and scripts.
•Whole group lesson on coping skills
•Brain breaks, mindfulness moments, or calming moments to use at the start or end of lessons, or for transitions
•Small group counseling
•Individual counseling
•Virtual learning
There are 18 different activities (30-60 seconds each) included: 6 in the area of "breathing", 6 in "body", and 6 in "visualizations, affirmations, and gratitude". For videos with student/character clipart, there are now "bigger kid" versions included!
**A scoring sheet is also included for students to rate how helpful they think each of the strategies is, and a self-awareness/processing worksheet.
•Videos with pre-recorded narration
•Videos without narration (for use "live" in person or via Zoom, Google Hangout, etc.)
•PowerPoint slides with embedded videos without narration (for recording your own voiced narration and exporting as a video) Note: This does NOT work with MAC. To add your own voice on a MAC, you will use QuickTime and do a screen recording. Directions are included for that, as well.
•PDF visuals/posters
*Due to the size of this resource, the file you download will be a PDF with a link to all of the videos on Google Drive. You do not need to have a Google account to access it. You can download all of the files from there.*
*If you have the 32-bit version of PowerPoint 2010, you will also need Quicktime for the embedded videos to work in PowerPoint. You will NOT need Quicktime for the video files themselves to play, only in PowerPoint if you have this older version.*

*Open up the previews for more details!*
Per the clip artist's terms of use, I cannot offer this as animated PowerPoint slides, nor is it editable.
Report this resource to TPT