Mini Core Board Strips (360 PECS / Picture Images included)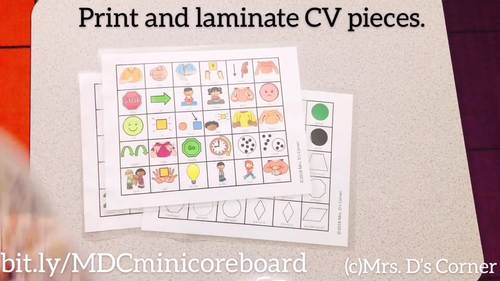 ;
What educators are saying
This has really helped to get my sweet boy to express himself and so his expressive language skills. A MILLION thanks!
This resource was so helpful to use during small groups with my non-verbal students. I am able to keep them on a ring and use the strips that apply to what we are working on.
Description
Core Vocabulary are the words that we use every single day to communicate, and the goal of utilizing core vocabulary instruction is to give your nonverbal and limited verbal ability students the ability to express themselves independently.
But cumbersome binders, AAC devices, and tablets can get in the way during a lesson... and we can't just take them away (our students need to communicate!).
Enter Mini Core Board Strips.
HOW DO THEY WORK?
Take a look at the preview file to read all of the details on how to utilize the Mini Core Board Strips in your classroom.
Or watch this video to learn more about AAC, Communication Devices, and how to practice it all... CLICK HERE.
Not sure where to start when teaching Core Vocabulary? Read this blog post.
WHAT IS INCLUDED?
• 360 PECS / Picture Images
Includes the following topics (and more): numbers 0-30, colors, shapes (2D and 3D), pronouns, verbs, basic core vocabulary words, direction words, adjectives, question words, classroom verbs, cooking verbs, school / academic subjects, money, emotions, minutes, and more!
• Mini Core Board Strip Boards (in 5 sizes) - the alternative to taping the strips onto desks or tables.
Connect with me:
• Newsletter • Blog • Facebook • Instagram • Pinterest •
Don't forget about the green ★ to follow my store to get notifications of new resources and freebies!
Thanks for Looking and Happy Teaching!
Report this resource to TPT