Modern BOHO RAINBOW Classroom Decor Bundle | Neutral Rainbow EDITABLE!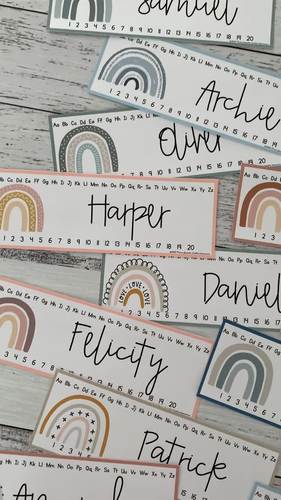 ;
What educators are saying
Loved the neutral tones. It was easy to use and loved it. I will reuse it next year again... that is how much I enjoyed it!
This is amazing!! I am using this as my theme this year. It is super cute!! This bundle includes everything you will need.
Products in this Bundle (21)
showing 1-5 of 21 products
Bonus
BONUS RESOURCES IN HERE!! --------> Don't forget to download!
Description
Your classroom is going to look beautifully on trend with this Editable Modern Boho Rainbow Classroom Decor Bundle! 
Suitable for all year levels, these stunning Neutral Rainbow educational printables have been created using a stylish & warm, neutral boho color palette to create a sense of calm and add an earthy feel to your classroom.
With over 2500+ pages, this modern classroom decor bundle includes EVERYTHING you need to set up an amazing educational space for you and your students with new resources being updated and added regularly! 
All elements included in this pack are text editable which means you can easily customize them to cater to the needs of your students and the requirements of your school including those who teach in a bilingual class - allowing you to type in Spanish or French for example. You will also find Alphabet Posters and Alphabet Word Wall Headers available in Australian State font options for those who require NSW, QLD, SA and VIC/WA fonts.
Once you purchase this bundle, you will have access for life to any updates or new resources that have been added - you will NOT have to purchase any new additions. So, keep an eye out on my socials for update announcements and re-download the file to automatically access the latest version :)
Please DOWNLOAD THE PREVIEW to take a closer look at each of the elements included in this bundle however you can see a breakdown of the resources below:
THIS BUNDLE INCLUDES:
Alphabet Posters (PDF & Editable - choose your own font!)
Fonts included: Standard Primary Font, Cursive Font, Australian State Fonts
4 Designs included: Design 1: Boho Rainbow design only - Design 2: Boho Color Strip with colored alphabet associated images - Design 3: Boho Color Strip with black and white alphabet associated images - Design 4: Square Posters with Alphabet only - no images
PLUS
ASL - American Sign language Alphabet Posters with diverse skin tones and
Affirmation Station (PDF & Editable)
Alphabet Word Wall Headers and Editable Cards (Editable) standard primary font and Aussie fonts.
Binder Covers and Spines - 24 gorgeous designs (Editable) + Spines in 3 sizes, styled to match
Birthday Display - (PDF & Editable)
Bulletin Board Bunting and Banners (Editable)
Classroom Calendar and Weather Display - (PDF & Editable)  - Design 1: Pocket Chart Size - Design 2: Standard Poster Print Size
Classroom Jobs Display with Header - 2 Designs: with rainbows and with cute kids (PDF & Editable)
Clip Chart (Editable - can be used as behavior chart etc)
Classroom Labels - small, medium, large tub, round, square, Magazine & Tolsby (Editable)
Classroom Posters - Editable in Portrait and Landscape - EDITABLE (Type in your own classroom rules or values, motivational quotes and signs etc)
Rainbow Color Posters (editable)
Days and Months of the Year Flashcards (PDF & Editable)
Days at School Tally (PDF & Editable)
Door Display - "We are a rainbow of possibilities" (Editable)
Flip Calendar (editable)
Hand Signal Posters - 2 designs to choose from (PDF & Editable)
Boho Rainbow Learning Intentions, Success Criteria, WALT, WALF etc - Multiple designs (PDF & Editable)
Meet the Teacher Templates (Editable)
Number Posters - 0-30, 40, 50, 60, 70, 80, 90, 100 (PDF & Editable)
Student Goal Mats (Editable)
Student Name Plates - (with Alphabet and Numbers) (Editable)
IKEA holder Table Number Signs (PDF & Editable)
Teacher Toolbox Labels - multiple designs (Editable)
Teacher Trolley / 10 Drawer Cart Labels - 2 styles (Editable)
Visual Timetable with Clocks (PDF & Editable)
Voice Levels Display (PDF & Editable)
Welcome Posters (PDF & Editable)
BONUS FOLDER!
SO MUCH VALUE!!!!
***PLEASE NOTE! Don't forget to download the BONUS FILE for your access to all the extra goodies included in this bundle - there's LOADS in there!!!!***

How to download your TPT Bonus file:
Once logged into TPT, head to 'My Purchases'.
You'll find all of your downloads there.
Scroll down to the bottom of the Bundle. That's where you'll see 'Bonus'
Click download!
Most Recent Update: July 2022
***********************************************************************
If you like this, then I know you will LOVE these other resources in the Modern Neutrals Collection:
Click here for more Neutral Rainbow resources
***********************************************************************
Stay Connected!
Be the first to see my latest resources and freebies!
***********************************************************************
ADDITIONAL INFO
This is a downloadable, digital file that you can access immediately after purchase.
To open the files you will be required to have a PDF Reader such as Adobe Acrobat installed on your computer. To edit the files you will need to have access to Microsoft PowerPoint. You can access a free trial here.
Please ensure your software is up to date to avoid compatibility issues.
'Editable' refers to the *text* within the file being customisable. Images and colour palettes are not editable. Simply type into the text boxes provided or add in your own to edit.
GOT A TECH ISSUE?
If you are having difficulty downloading or opening Classroom Decor Bundle, please ensure you unzip all folders and view each file before getting in touch. To do so: - right click on the zipped folder - and select 'unzip'.
Please check the Teachers Pay Teachers FAQ section if you are experiencing any other tech issues. Please contact support@teacherspayteachers.com
TERMS OF USE
Purchase of this resource entitles the purchaser the right to reproduce pages in limited quantities for single classroom or home school use only.
Duplication for a friend, another staff member, entire school or commercial purpose without purchase of an additional licence is strictly forbidden.
Copying any part of this resource and placing it on the internet in any form (even a personal or classroom website/ school server) is a violation of the Digital Millennium Copyright Act (DMCA).
Copyright © Chantelle Jacobs
Miss Jacobs Little Learners Pty Ltd
WWW.MISSJACOBSLITTLELEARNERS.COM
Blog | Facebook | Pinterest | Instagram | Email
boho rainbow calendar | neutral rainbow | neutral classroom decor | miss jacobs little learners | natural classroom | rainbow decor | boho | calming rainbow | macrame rainbow | rainbow decor | retro classroom decor | vintage classroom decor | cursive | modern rainbow decor | modern boho desert neutrals |
| OG boho rainbow
Report this resource to TPT