Mona Lisa Lego Mural and Whole Body Listening Lesson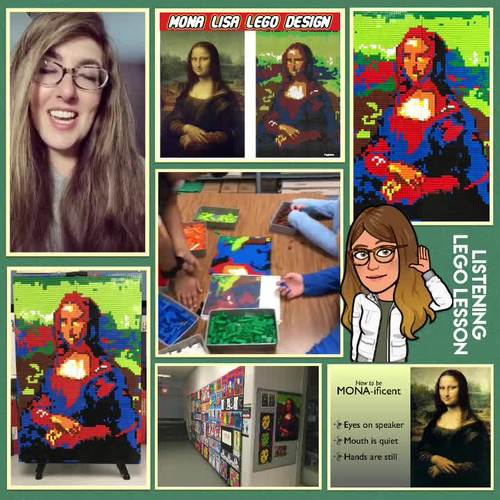 ;
Description
This collaborative lego mural of the Mona Lisa by Leonardo DaVinci is designed to teach students to work collaboratively, create art with new media, use the grid of a 32 brick by 32 brick plate to match a design printed out showing a 32 x 32 brick design (1:1 ratio-no scaling needed) while reflecting whole body listening. The lesson included a poster and Fugleflick video made by students to help inspire others to become Mona-ificent. This lesson references the Mona Lisa as a visual guide for good listening.
The lesson is a 19 page PDF including directions, display sheets, and the design guide for you to print (eight color pages). Materials Needed: black, brown, white, red, yellow, green, lime green, blue, and orange (you can switch out colors if needed) basic legos of all sizes, six 10"x10" lego base plates, and printed color lego design sheets.
The final mural is 20" wide by 30" tall. It can be mounted with adhesive velcro to an illustration board and displayed on an easel or mounted to a bulletin board using T-pins.
See also my Marilyn Monroe Pop Art Lego Designs
See also these Black History Lego Mural resources:
or search here for any more recently added
Explore my other Transdigital Lessons here.
Need a way to advocate for iPads for your teaching space?
Share my Creating on iPads page with your administration.
Explore all my FUGLEFUN STEAM ART, SEL, and LEGO lessons and GAMES in this convenient index: bit.ly/fuglefunstoreindex
Report this resource to TPT