Montessori Spelling Vocabulary BUNDLE: Elementary Montessori Language WORD STUDY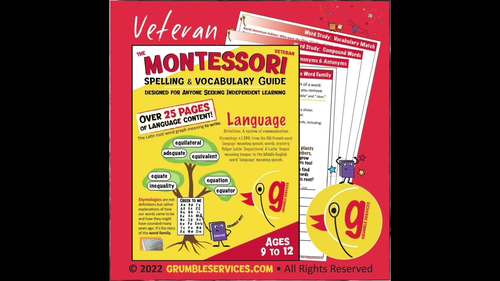 ;
Products in this Bundle (3)
Description

Purchase ALL THREE Editions in this bundle and save 15%!
Word Study is the study of changes made over time to words in a given language. Explore the inner workings & nuances of modern English. Montessori-inspired, this learning resource guides young linguists to:
• Study how roots, suffixes & prefixes modify the meaning of words
• Explore the nuances among words within different word families
• Determine the meaning of words by analyzing meaningful word parts
• Delve more deeply into word study with synonyms & antonyms
• Examine how 2 words together will create a new compound word
• Word Vocabulary Cluster pages for discovering new words also included!
Recommended Ages: 8 to 12 years old (but you know the child best!)
Number of Pages: 114 including Answer Keys
Subjects: Language & Writing, Reading, Spelling, Vocabulary ('Cosmic Word Study')
Genre: Elementary, Montessori, Homeschooling, Distance Learning
Date of Publications: January 1, 2021 & July 5, 2021
Format: PDF Version (Remote-ready eGuides I, II, III)
Publisher: © 2022 Grumble Services LLC • All Rights Reserved.
Consider these related LANGUAGE & WORD STUDY products:
Literary Devices: Hyperboles. Idioms & Similes - Elementary Language help pages
GadZooks! Language help (NO PREP) GAME: Elementary Literary Devices & Figures of Speech
Looking for High Quality, Professionally Designed Elementary
Learning Resources? Look no further - FOLLOW GRUMBLE!
Although the word Montessori is in the title, ANY type of elementary
student will benefit from independent, self-directed learning.
Please consider other WORD STUDY Learning Resources from Grumble!
As stated in the Teachers Pay Teachers refund policy, "all sales on TpT of digital resources are considered final and nonrefundable." Please ask any questions you have about this product before purchasing. Thank you!
© 2022 Grumbleservices.com • All rights reserved.
Dr. Maria Montessori believed the only way our world would find lasting peace was through educating our children. Much of her elementary curriculum was written by her during a period of internment in India during WWII. This time period helped solidify Dr. Montessori's belief in Peace Education.
Resource Color Guide (just like the Montessori hierarchical colors):
ROOKIE Pages (Green) - Aimed toward early to mid level elementary students.
SEMI-PRO Pages (Blue) - Aimed toward mid level elementary students.
VETERAN Pages (Red) - Aimed toward mid to late level elementary students.
But of course, you know the child best, so adjust accordingly.
In the words of Dr. Montessori, "Follow the Child!"
Teaching Duration
1 Semester
Report this resource to TPT
Standards
to see state-specific standards (only available in the US).
Use spelling patterns and generalizations (e.g., word families, position-based spellings, syllable patterns, ending rules, meaningful word parts) in writing words.
Consult reference materials, including beginning dictionaries, as needed to check and correct spellings.
Determine the meaning of the new word formed when a known affix is added to a known word (e.g., agreeable/disagreeable, comfortable/uncomfortable, care/careless, heat/preheat).
Spell grade-appropriate words correctly, consulting references as needed.
Use common, grade-appropriate Greek and Latin affixes and roots as clues to the meaning of a word (e.g., telegraph, photograph, autograph).