Monthly Bulletin Board Set GROWING BUNDLE with Bible Verses or General Wording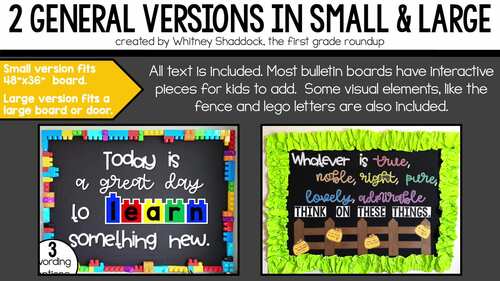 ;
Products in this Bundle (11)
showing 1-5 of 11 products
Description
Are you a Christian teacher looking for Bible verse bulletin boards to display in your classroom? Or are you just looking for non-religious monthly options for bulletin boards or hallway displays? This monthly bulletin board bundle is perfect for Christian and general settings.
This is a *GROWING* bundle. That means it is not complete. As new bulletin board sets are added, this bundle will be updated and the price will go up until its final completed value of with a final price of . By purchasing the growing bundle now, you will get the bundle at the lowest price and will get the new resources for free as the bundle is updated!
Want to see how I used this these bulletin board set? Read these blog posts here.
EACH MONTHLY BULLETIN BOARD SET INCLUDES
• 1 Bible Verse option themed for the month (perfect for the private Christian school, children's church, or homeschool setting)
• 2 general wording options themed for the month (perfect for any setting including public school)
• some blank templates as needed
• interactive pieces for kids to write on and add for a quick hallway display
•
MONTHLY BULLETIN BOARDS INCLUDED
(EACH AVAILABLE IN CHRISTIAN & GENERAL VERSIONS)
• August - LEGO BUILDING BLOCKS - 1 Thess. 5:11
• September - FRUIT/APPLES - Gal. 5:22-23
• October - PUMPKIN - Phil. 4:8
• November - THANKSGIVING - Psalm 136:1
• December - LIGHT - Matt. 5:16
• January - NEW YEAR - Isaiah 43:19
• February - LOVE - 1 Cor. 16:14
• March - GOLDEN RULE - Luke 6:31
• April - SHEEP - Psalm 23:1
• May - FLOWERS - 2 Peter 3:18
• June - PAINTBRUSH MASTERPIECE - Eph. 2:10
MONTHLY BULLETIN BOARDS *COMING SOON*
(EACH AVAILABLE IN CHRISTIAN & GENERAL VERSIONS)
• July - FREEDOM - John 8:36
Simply print, cut and staple to your monthly bulletin board! All of the colors are already noted on each page so you can quickly make it just like the display shown.
RELATED RESOURCES:
• Rainbow Classroom Decor Bundle
Copyright Whitney Shaddock, 2023, licensed for one classroom use only. Please use the multiple licensing option for more than one classroom use!
Let's Connect:
Teaching Duration
Lifelong tool
Report this resource to TPT