Monthly Sentence Scrambles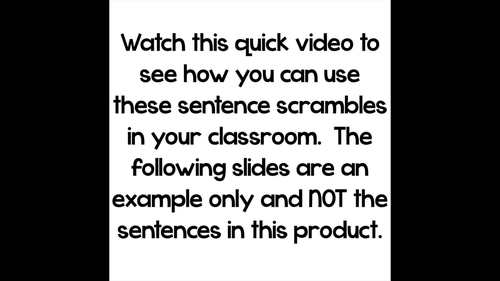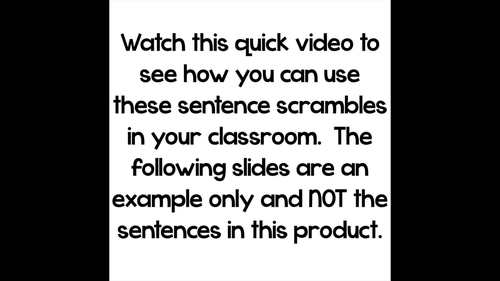 Created By
First Grade Maestra Trisha Hyde
Products in this Bundle (11)
showing 1-5 of 11 products
Bundle Description

Standards
Your students will love these Monthly Sentence Scramble worksheets and literacy station centers. This is high engagement and low prep!  Students can complete the worksheet independent of the literacy center or after building the sentence at the literacy center.  Each product contains 20 sentences with 4-7 words in each sentence. There are also recording worksheets that students can build the sentences and record them onto the recording worksheet.  
You will save 25% by buying the bundle!
You will notice that the worksheet, literacy center, and recording sheet are labeled with letters to indicate which words go to each sentence/worksheet. This is an excellent literacy center to use at the beginning of the year when teaching students the routines and procedures for each center.
Happy Teaching! ❤️
Keywords: January, February, March, April, May, September, October, November, December, Sentences, Writing, Grammar, Simple Sentences, scrambled sentence, sentence scrambles
Log in
to see state-specific standards (only available in the US).
Demonstrate command of the conventions of standard English capitalization, punctuation, and spelling when writing.
Demonstrate command of the conventions of standard English grammar and usage when writing or speaking.
Use sentence-level context as a clue to the meaning of a word or phrase.
Use conventional spelling for words with common spelling patterns and for frequently occurring irregular words.
Use commas in dates and to separate single words in a series.
Report this Resource to TpT