Monthly Themed Literacy Centers for 3rd, 4th, 5th, and 6th Grade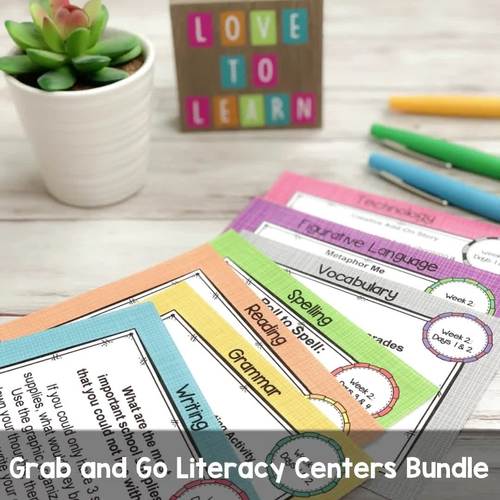 ;
Products in this Bundle (9)
showing 1-5 of 9 products
Description
Over 1,000 pages for your literacy centers! Different games, activities, and printables to keep your students engaged and learning.
No more planning Language Arts and Literacy Centers, get all you need for the ENTIRE year in this bundle. Just print and go, it is that simple. Each month includes 64 tasks cards with accompanying worksheets. The only center without a worksheet is the center titled "Teacher Directed Time," because as the classroom teacher, you will know what to teach your small group best :). The technology center will sometimes not require a worksheet as well, but may need a computer or other device.
Center themes are focused on reading skills, spelling, vocabulary, writing, figurative language, study skills, grammar, poetry, technology, and more!
Included are also pocket chart headers for each center and placement cards to put around your room to label where the centers are going on. There are also instructions on how to implement these centers into your classroom.
Students will do 3 centers a day, Monday-Thursday, equaling 12 centers a week. However, I include 16 task center cards per week! That gives YOU the TEACHER the option to choose which centers to use. You can use the extra centers for fast finishers, to challenge higher level students, as morning work, or for quick reviews. Or, if the technology is unavailable in your room, use one of the other centers instead.
*Reading centers require teachers to provide their own reading material.
*Teachers must also use their own spelling and vocabulary lists. This way, you will be able to differentiate the activities for your own students.
What people have said about these centers:
"This is phenomenal! By FAR the best purchase I've made on TPT. I can't wait to start using it in my classroom! :)"
Adventures of a Fourth Grade Fanatic
"These Grab and Go Centers are TRULY grab and go! They are a life and TIME saver for me. My students come in every day asking if we are going to do centers. When I tell them yes, they get so excited...which makes me excited. Love, love, love them!"
Betsy G.
"These centers are perfect for the classroom. Short assignments that are relevant to Common Core standards. Students are engaged and excited for Reading Centers."
Marie C.
"Your January set of Grab & Go stations made my life so much easier! The ones that allow me to add spelling words, my own reading assignment, and vocabulary words make these perfect! Easy to prepare, very few paper copies to make, easy to differentiate, I need them for the whole year!"
Tiesha J.
"I love how there are so many activities to choose from!!! My students will NEVER be bored!!!!"
Erin R.
"The Reading Center Packet has saved my life. It has made managing my reading centers a breeze. Beautiful graphics, well thought out. The 20 minutes for each activity is just the right amount of time. My students are on task and loving it."
Marie C.
Check out each set individually for a more detailed preview of each product included in this bundle. You can also see the common core standards matched with each monthly center by clicking on the individual months below.
CCSS
Common Core Aligned
Report this resource to TPT