Monthly Writing Flip Books Bundle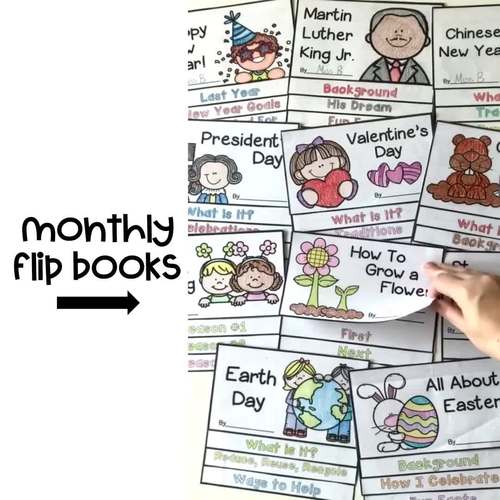 ;
60 flip books (240 pages)
Products in this Bundle (12)
showing 1-5 of 12 products
Description
You and your students will LOVE these monthly writing crafts for the whole year! These are ideal as a first grade writing center, second grade morning work, or third grade homework.
Let your students brainstorm a topic and then research/respond by creating a colorful, interactive, and engaging flipbook to showcase their learning and experiences.
These interactive notebooks/crafts are great for writing lessons (procedure how-to writing, explanatory, opinion writing, or informative writing), bulletin boards, or research lessons.
PLEASE check out the preview! I have made a detailed document with lots of pictures and information with everything you need to know about this bundle!
How to Grow a Flower | Free Flip Book
There are 12 products (one for each month - January through to December). Each product has 5 flip books for the month (informative, explanatory, opinion, procedural). Monthly topics, holidays/celebrations, and national days are covered (e.g. New Years, Valentine's Day etc).
Each flip book comes in dotted and plain lines.
YOU will love it because it's no prep and easy for students to complete! Your students will love it because it's fun!
You will print 2 pages and the students simply write, color, cut, and glue. EASY!
It is a year-long set of flip books (there are 60 flip books - 240 pages)
The flip books are fun and seasonal (holidays/celebrations/national days)
It is NO PREP, simply print and go
It has dotted and plain lines, so is suitable for multiple year levels
There is engaging clip art for students to color in
The flipbooks are hands-on and interactive
Students will have FUN showcasing their learning.
Whole group lessons (writing, literacy, Science, or social studies)
Small group work (literacy or writing centers)
Research projects
Early finishers
Morning work
Easy activity for a sub
Fun activity during special days/holidays/celebrations
Assessment
Enjoy this resource! Don't forget to follow my store for more awesome products and rate this product for your TPT credits :)
I have roll a story prompts, writing craftivities, fun worksheets, and much, much more!
Monthly Writing Prompts Bundle
Total Pages
60 flip books (240 pages)
Report this resource to TPT
Standards
to see state-specific standards (only available in the US).
Write informative/explanatory texts in which they name a topic, supply some facts about the topic, and provide some sense of closure.
With guidance and support from adults, focus on a topic, respond to questions and suggestions from peers, and add details to strengthen writing as needed.
Participate in shared research and writing projects (e.g., explore a number of "how-to" books on a given topic and use them to write a sequence of instructions).
With guidance and support from adults, recall information from experiences or gather information from provided sources to answer a question.
Write informative/explanatory texts in which they introduce a topic, use facts and definitions to develop points, and provide a concluding statement or section.