Mood and Tone PowerPoint Lesson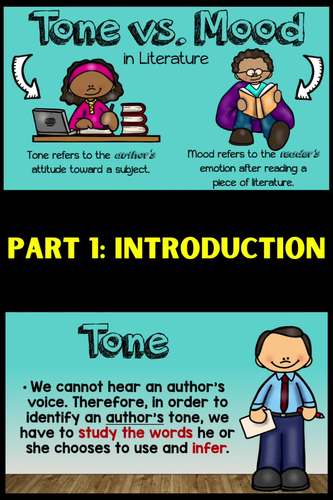 ;
What educators are saying
Engaging way to introduce/review and clearly differentiate between these two parts of author's craft for G5 students. If it was more easily editable, it would be even better. I will use again.
Kids loved having this (used in on schoology) as an extra resource to have. It helped facilitate the teaching of mood vs tone.
Also included in
This mood and tone bundle has everything you need to keep your upper elementary and middle school students engaged as they learn how to identify an author's tone in writing and the mood created after reading a piece of literature. These resources are designed to expand your students' vocabulary. The

Price $13.00

Original Price $22.49

Save $9.49
Description
Are you searching for a step-by-step PowerPoint that can be used to introduce mood and tone to your students in a way that will grab their attention? You've come to the right place! This 51-slide PowerPoint is designed to keep your students engaged and attentive as they read multiple passages and identify the author's tone and/or the reader's mood after reading the passage.
PowerPoints filled with visuals are ideal for teaching new content to students because PowerPoints tend to be highly engaging and concepts can be easily broken down into understandable chunks of information. But let's face it... they are time-consuming to create! Fortunately, now you have an option of using one that is already complete, kid-tested, and ready to go for you!
HERE'S THE SEQUENCE OF TOPICS COVERED IN THIS POWERPOINT:
Slides 1-5: Introduction and Defining "Mood" and "Tone"
Slides 6-20: Introducing Mood and Tone Emotion Words For each of the 7 emotions listed, a synonym list is presented, followed by a literature example.
Slides 21-27: A Closer Look at Tone
Slides 28-36: Tone Practice Passages: After 4 tone words are presented, students read two passages and determine which tone words applies to each passage.
Slides 37-39: A Closer Look at Mood
Slides 40-45: Mood Practice Passages: After 4 tone words are presented, students read two passages and determine which tone words applies to each passage.
Slides 46-52: Tone and Mood Together
***A PowerPoint companion handout is also included in this file. As you advance through the PowerPoint, students can record their answers on the handout. The companion handout is available in both printable format or digital format.**
CHECK OUT THE PREVIEW!
Here's what teachers like you have to say about this PowerPoint:
Zana W. said, "This Powerpoint was very thorough and provided EXCELLENT opportunities for students to practice identifying the mood and tone in various practice slides. I will definitely be using it next year in class as well! Great resource!"
Robin T said, "This was a VERY helpful resource. My scholars enjoyed learning about the topic, and it made my life a little easier."
James D. said, "This is an incredibly thorough and helpful resource for teaching mood and tone. It is perfectly paced and definitely builds upon itself with every slide. My students enjoyed it as well."
Lottie L. said, "Excellent resource! I split the PPT into three lessons (1 - words, 2 - tone, 3 - mood and putting it together at the end). It really helped with teaching these concepts!"
You can also click on the following links to check out my related resources:
I Have, Who Has: Mood and Tone Words
Copyright by Deb Hanson
Please note: You DO have my permission to convert this PowerPoint to Google Slides, and to share it with your students via Google Classroom. (A Google link is provided, but you may upload the PowerPoint to Google yourself, if you wish.)
Also, the PowerPoint cannot be edited due to the copyright requirements made by the contributing artists (clip art, font, background).
This item is a paid digital download from my TpT store
www.teacherspayteachers.com/Store/Deb-Hanson
This product is to be used by the original downloader only. Copying for more than one teacher is prohibited. This item is also bound by copyright laws. Redistributing, editing, selling, or posting this item (or any part thereof) on an Internet site that is not password protected are all strictly prohibited without first gaining permission from the author. Violations are subject to the penalties of the Digital Millennium Copyright Act. Please contact me if you wish to be granted special permissions!
Teaching Duration
90 minutes
Report this resource to TPT