Morning Meeting Real Pictures Print + Google Slides™ | Special Education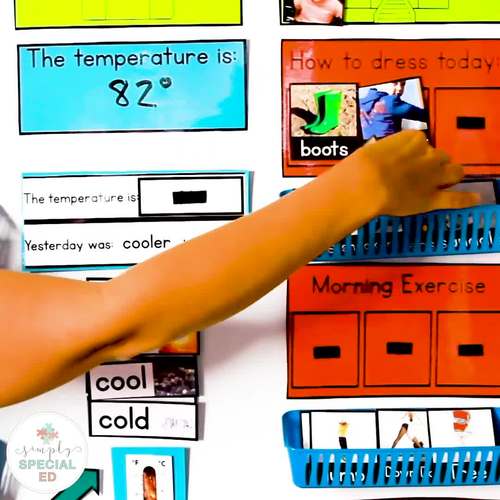 ;
What educators are saying
I am very excited to get to use this resource. My students are older and having the real pictures allows them to access what their learning with more clarity.
easy to adapt. Very helpful to have digital for interaction board and print for individual practice.
Also included in
Created with new special education teachers in mind. This bundle is made up of 8 classroom setup resources that will set you up for success with EASE this new school year. These resources will start your year on the right foot! Perfect for those new to special education or those who would like to b

Price $70.00

Original Price $91.25

Save $21.25
Description
Activities and visuals for special education morning meeting or circle time, calendar work, and weather! 82 pages to print, laminate, and put it up on your wall! Keeping your students engaged with hands on tasks during morning meeting is easy to do with our follow along calendar book and worksheets. Uses real pictures as visuals for students to make real world connections.
WHAT'S INCLUDED?
Digital + Printable
Large set for board
Mini calendar book for dry erase
Velcro calendar book set
Worksheets
Digital Version
WHAT TOPICS ARE INCLUDED?
Yesterday, Today, Tomorrow
Days of the Week
Today's Date
Month and year and day
Temperature
Weather
Emotions
Who's Here today
How I came to School
Colors: My shirt is
Colors: My Pants are
Seasons and Clothes
Song Choices
Book Choices
Morning Stretches
Say Hello
Days in school
WHAT TEACHERS ARE SAYING:
"I teach in a self-contained multiple disabilities classroom for students in middle- and high-school. This resource was an excellent addition to our morning meeting! There are varied types of work for students who can write and those who utilize velcro icons; all students were able to complete the work independently and then discuss answers as a group. Thank you so much for a great resource!"
- Sarah E.
"This was a wonderful resource that I use daily in my classroom. My students love interacting during our morning meeting time. It includes real pictures so that my students can relate to the things that we are talking about such as the weather. Luckily we have been in the classroom so I am able to use this with my students sitting directly in front of me. However, it has a google slides version that I had purchased when I thought my students would be virtual. "
- Karen
"I've used this resource everyday since the beginning of the school year. We've been face to face, fully online and everything in between. I printed out, laminated and bound books for all of my students. We use the digital version on the Smartboard. My higher functioning students are able to navigate the morning meeting on Google Slides very easily. I love the layout as well as the different levels of workbooks available. This is a resources that I plan on using for the foreseeable future."
"My students love morning circle time! I love how it looks and was customizable to my class. (I didn't print the clothing pages since we don't usually discuss that in my class). I love having the pieces laminated so that the students interact more with calendar and circle time, and it's easy to wipe off those germs. This is a great resource for multiple ages. I teach special needs PreK, but it doesn't look childish and can be used in upper grades too, if I ever move grades."
- Lisa

WHY REAL PICTURES?
Using real pictures during morning meeting allows your students to make connections with the world around them. Morning meeting/ circle time is a great place to start with these real world connections.
HOW DOES THE DIGITAL VERSION WORK?
You must have access to Google Slides™ to use this digital resource. Direct link included to copy + save to your Google drive which will allow you the ability to upload to your Google Classroom™
ONLY NEED THE DIGITAL VERSION?
NEED MORE VISUALS?
FIND ME HERE!
Answer Key
Does not apply
Teaching Duration
Lifelong tool
Report this resource to TPT
Standards
to see state-specific standards (only available in the US).
Describe familiar people, places, things, and events and, with prompting and support, provide additional detail.
Speak audibly and express thoughts, feelings, and ideas clearly.