Morning Tubs, Math and Literacy Pattern Blocks Activity Bins - Kindergarten, 1st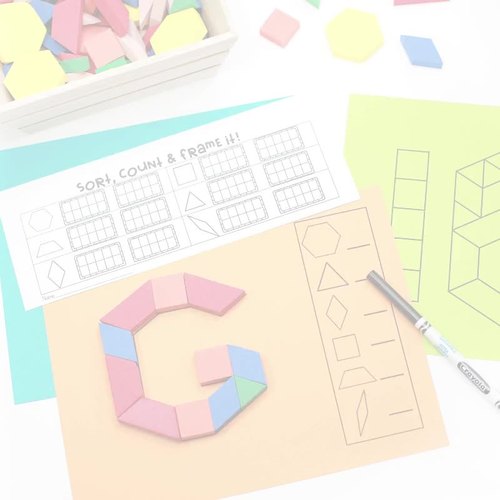 ;
What educators are saying
This is a great center for early finishers, and/or students to build spatial organizational skills. Play with a purpose.
This resource is great! I love that the kids get to build, count graph, etc in one activity! It makes math fun, engaging and hands on, they felt like they weren't even doing math!
Also included in
Help your students gain independence with these hands-on kindergarten morning work tubs. Included in this bundle is a wide range of resources to improve your kindergarten math centers and kindergarten literacy centers. These kindergarten morning tubs will allow your students to engage in meaningful

Price $10.00

Original Price $20.00

Save $10.00
Description
Are you looking for hands-on math and literacy activities that can be used independently at any time during the day? Check out these morning tubs (or anytime of the day) activity mats. These pattern block activity cards are perfect for reinforcing early math and literacy skills such as counting to 30, shapes, and letter identification. This resource includes over 200 activity mats and printable response pages, perfect for informally assessing skills and concepts.
What's Included in these Pattern Blocks Morning Tubs Activities?
There are work mats included for all year long!
217 Work mats each mat is differentiated for 3 levels of play easy, medium, and challenging with a total of 651 work mats.
7 different spinners that can be used for counting, addition, and subtraction
12 different Math Exit tickets so that kids can record their learning
8 Writing templates
When should I use them?
Anytime Tubs can be used anytime during the day. They can be used for Morning Work, Center Stations, or Fast Finishers. Differentiated so that students can use them to practice counting and one to one correspondence, addition with two addends, addition with three addends, subtraction. Optional exit tickets include skills such as tally marks, comparing numerals, recording equations, graphing. Optional writing templates are also included. SO MANY CHOICES and open ended ways to use this resource.
Why is hands on learning important?
"Kids learn through all their senses," says Ben Mardell, PhD, a researcher at Harvard University, "and they like to touch and manipulate things."  But more than simply moving materials around, hands-on activities activate kids' brains. According to Cindy Middendorf, educational consultant and author of The Scholastic Differentiated Instruction Plan Book (Scholastic, 2009), between the ages of four and seven, the right side of the brain is developing and learning comes easily through visual and spatial activities.
View the preview for more detailed information
What work mat topics are included?
Uppercase alphabet letters
Lowercase alphabet letters
Numeral mats from 0-30
Winter theme mats: hot chocolate, penguin, winter hat, winter tree, pinecone, snowflake
America theme mats: Statue of Liberty, bald eagle, fireworks, firecracker, star 1, star 2, star 3
Spring theme mats: bee, bird, birdhouse, blossom, bug, umbrella, watering can, tulip
Summer theme mats: anchor, crab, sandcastle, sailboat, fish, ice cream cone
Fall theme mats: apple, acorn, leaf, corn, owl, pumpkin
Farm animals: cat, cow, horse, donkey, chicken, dog, duck, turkey
Forest animals: fox, bear, deer, mouse, owl, porcupine, wolf
Zoo animals: giraffe, elephant, lion, gorilla, monkey, peacock, rhino
Transportation theme mats: helicopter, hot air balloon, jet, rocket, bicycle, bus, car, dump truck, train, scooter, sailboat, steamboat, submarine
11 mosaic mats
8 repeating pattern mats
Halloween theme: bat, spider, spider web, haunted house, witch's shoe
Thanksgiving theme: cornucopia, corn, turkey, Mayflower
Christmas theme: Christmas tree, holly berries, wreath, ornament 1, ornament 2, reindeer
New Year's Eve: balloon, fireworks, New Year's eve ball, party hat 1, party hat 2, party hat 3, noisemaker
Valentine's Day theme: heart, cupid, key, ring, rose
St. Patrick's Day theme: leprechaun, pot of gold, four leaf clover, rainbow
Easter theme: bunny, basket, basket 2, chocolate bunny, egg 1, egg 2, chick
Earth Day theme: Earth, recyle, plastic bottle, globe, plant
Cinco de Mayo theme: cactus 1, cactus 2, maraca, chili pepper, guitar
Want to save??
Check out the Anytime Tubs bundle!
SKU: 4281978
Report this resource to TPT
Standards
to see state-specific standards (only available in the US).
Count to 100 by ones and by tens.
Write numbers from 0 to 20. Represent a number of objects with a written numeral 0-20 (with 0 representing a count of no objects).
Understand the relationship between numbers and quantities; connect counting to cardinality.
When counting objects, say the number names in the standard order, pairing each object with one and only one number name and each number name with one and only one object.
Understand that the last number name said tells the number of objects counted. The number of objects is the same regardless of their arrangement or the order in which they were counted.