Morning Tubs, Math and Literacy Snap Cubes Activity Bins - Kindergarten, 1st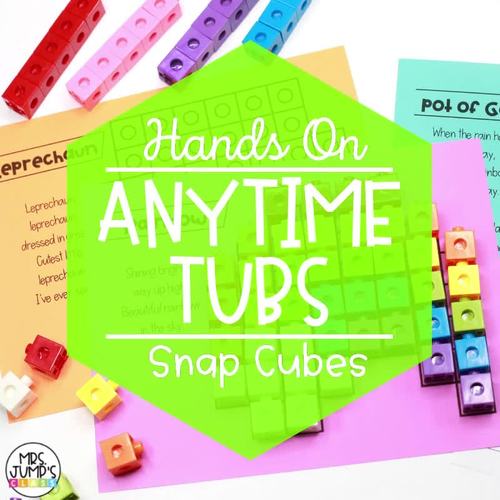 ;
What educators are saying
Great activities- my students enjoy linking/snap cubes. This was an engaging activity to use with a resource they already enjoy.
My students love having a guide to help them make pictures with snap cubes. These are wonderful and easy to follow. Even got my class to try making their own pictures.
Also included in
Help your students gain independence with these hands-on kindergarten morning work tubs. Included in this bundle is a wide range of resources to improve your kindergarten math centers and kindergarten literacy centers. These kindergarten morning tubs will allow your students to engage in meaningful

Price $10.00

Original Price $20.00

Save $10.00
Description
Are you looking for hands-on math and literacy activities that can be used independently at any time during the day? Check out these morning tubs (or anytime of the day) activity mats. These snap cubes activity cards are perfect for reinforcing early math and literacy skills such as counting to 30, sorting and rhyming. This resource includes over 150 activity mats and printable response pages, perfect for informally assessing skills and concepts.
When should I use them?
Anytime Tubs can be used anytime during the day. They can be used for Morning Work, Center Stations, or Fast Finishers. Differentiated so that students can use them to practice counting and one to one correspondence, addition with two addends, addition with three addends and subtraction. Optional exit tickets include skills such as tally marks, comparing numerals, recording equations, graphing. Work mats also include a poem that goes with the picture on the mat to help build reading skills or alphabet recognition. Optional writing templates are also included. SO MANY CHOICES and open ended ways to use this resource.
What's Included in this Anytime Tubs Snap Cubes Resource?
There are work mats included for all year long!
66 Work mats each mat is differentiated for 3 levels of play easy, medium, and challenging (see preview). So there are a total of 198 work mats.
Smaller versions of the work mats to be used with the medium and challenging mats.
Poem for each picture on the work mat.
7 different spinners that can be used for counting, addition, and subtraction
17 different Math Exit tickets so that kids can record their learning
7 Writing templates
View the preview for more detailed information
What work mats are included?
apple
pumpkin
scarecrow
leaf
acorn
fall tree
Jack O'lantern
Frankenstein
ghost
haunted house
witches brew
turkey
Mayflower
hat
corn
stocking
bell
Santa
wreath
reindeer
candy cane
snowman
snowflake
polar bear
ice skate
winter tree
hot chocolate
American flag
White House
Liberty Bell
bald eagle
heart
ring
strawberry
cupcake
rose
chocolate candy
leprechaun
rainbow
umbrella
pot of gold
leprechaun punch
leprechaun hat
chick
bunny
basket
butterfly
lamb
egg
Earth
tree
flower
light bulb
recycling bin
milk jug
bee
birdhouse
kite
ladybug
sunshine
crab
ice cream cone
palm tree
watermelon
sand bucket and shovel
beach ball
Want to save??
Check out the Anytime Tubs bundle!
SKU: 4258887
Report this resource to TPT
Standards
to see state-specific standards (only available in the US).
Count to 100 by ones and by tens.
Understand the relationship between numbers and quantities; connect counting to cardinality.
When counting objects, say the number names in the standard order, pairing each object with one and only one number name and each number name with one and only one object.
Understand that the last number name said tells the number of objects counted. The number of objects is the same regardless of their arrangement or the order in which they were counted.
Count to answer "how many?" questions about as many as 20 things arranged in a line, a rectangular array, or a circle, or as many as 10 things in a scattered configuration; given a number from 1-20, count out that many objects.