Mot du jour French word of the day | Mots fréquents-French sight words bell work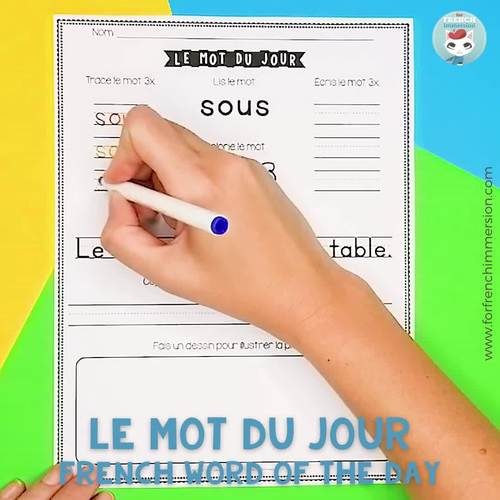 ;
188 + credits, instructions, optional pages, etc
What educators are saying
Merci pour cette ressource. Je l'utilise en rituel. Je choisi les mots en fonction du thème travaillé en classe. Les enfants et moi aimons beaucoup.
This resource is worth it's weight in gold. So great to reinforce those high frequency French words.
Also included in
French word of the day worksheets to practice sight words "en français": this is a bundle of two resources with printable sheets to work on French high-frequency words. There are more than 350 student pages in the bundle so you're ready for a whole school year of daily practice.Why use these workshe

Price $10.60

Original Price $13.25

Save $2.65
Description
Mots fréquents | French sight words daily work activity: these worksheets are great to practice high-frequency words (mots outils, or mots usuels). Your students won't feel overwhelmed by vocabulary because they'll be focusing on one French sight word a day: le mot du jour! This can be your French morning work / bell work.
Includes 188 printable worksheets to get students practicing "LE MOT DU JOUR".
Most of the words are words for 1st grade in French and some other easy words.
Students will:
→ read the word
→ color the word
→ trace the word 3x
→ write the word 3x
→ trace the word in a sentence
→ copy the sentence and circle the word of the day
→ illustrate the sentence.
This should last you a whole school year if you assign one page a day so you save on time and energy planning your school day.
These sheets are versatile–you can use them in your Daily 5 Word Work center or in any type of literacy center for French Immersion students. You can also use them for morning work, early finishers, or to leave for a supply teacher.
And your students will quickly learn the instructions for completing the sheets which will make them more independent. Thus leaving you more time to work with other students in small groups, conferences, or to attend to other classroom tasks.
TEACHERS LIKE YOU SAID…
⭐️⭐️⭐️⭐️⭐️ Kelly M. said, "I like that there is a list in alphabetical order at the beginning of the resource so I can easily find the pages I want to print. I also appreciate the tracking sheet so that I don't accidently print words we have already done. The students know exactly what is expected of them after just a few days of practice. They love that there is printing, coloring and drawing. I am going to try putting words in sheet protectors and using this as a center this coming year."
⭐️⭐️⭐️⭐️⭐️ Jasmine said, "This product single-handedly changed my morning routine with my students for the better! They look forward every day to finding out what the new word is. We love this resource and I will use it for many years to come!"
⭐️⭐️⭐️⭐️⭐️ Michelle C. said, "We use this as homework to help my students with the word development. They always love drawing a picture and it is a great way to see their comprehension skills. Merci!"
↓ ↓ ↓
This resource is a re-release.
Make sure you haven't purchased it before!
It was previously available at my other TpT store: Here's an idea by Lucy S. / ESL Teach Well
↑ ↑ ↑


⭐️ Bundle & save for a discount ⭐️
to get this pack plus SET B!
You may also like…
→ French Morning Work Grades 1, 2, 3 BUNDLE
→ French Calendar Cards BUNDLE
Having difficulty with a file?
Visit the FAQs section, submit a help ticket, or ask a question on the Q& A tab before leaving feedback.
___________________________________
Copyright © Lucy For French Immersion
Permission to copy for single classroom use only.
Please purchase additional licenses if you intend to share this product.
SKU: 2840121
Total Pages
188 + credits, instructions, optional pages, etc
Answer Key
Does not apply
Report this resource to TPT