Multiplication & Division Games Fact Fluency 5 in a Row | Math Fact Practice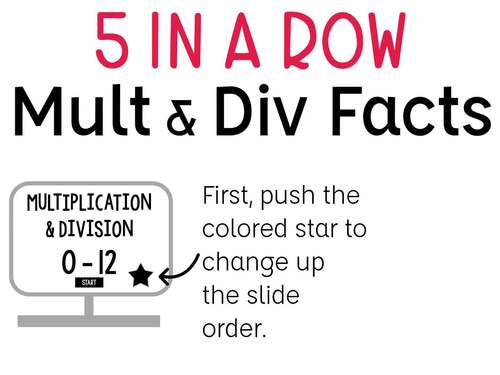 ;
Products in this Bundle (3)
Also included in
Looking for 3rd Grade math resources to enhance your curriculum? This Beyond the Textbook Bundle includes resources for spiral review, word problem of the day, and math games to last all year! This is the perfect supplement to your curriculum to make your math block rigorous and engaging!Everything

Price $65.00

Original Price $88.00

Save $23.00

Build multiplication and division fact fluency along with number sense and place value skills with these fun, engaging, easy prep, self running 3rd grade math games! Students' fluency increases as you speed up the game during continued play. Students love this engaging game, and you'll love that it

Price $28.00

Original Price $36.00

Save $8.00
Description
Looking for ways to build multiplication and division fact fluency that students will enjoy? 5 in a Row is a game your students will BEG to play! Build multiplication & division fact fluency with these fun, engaging, easy prep, self running games! Students' fact fluency increases as you speed up the game during continued play. Students love these multiplication and division games, and you'll love that it runs on its own!
12 different multiplication & division facts games are included:
•multiplication facts 0-5
•division facts 0-5
•mixed multiplication and division facts 0-5
•multiplication facts 6-10
•division facts 6-10
•mixed multiplication and division facts 6-10
•multiplication facts 0-10
•division facts 0-10
•mixed multiplication and division facts 0-10
•multiplication facts 0-12
•division facts 0-12
•mixed multiplication and division facts 0-12
This no-prep blackline game is ready for playing! Just print, cut, and play, or laminate for future use. The corresponding Powerpoint files plays the game all on its own. Click the button to randomize the slides and push start. It can be randomized for every play, keeping the game fresh and fun for students.
With only 15 numbers on the game card, students can quickly find and identify the numbers. 30 different game cards are included with each game, so there's a different card for even large class sizes. The games practicing facts 0-10 and 0-12 have the option for students to have a game card with all 3 rows, so 30 full pages are included. Complete setup directions are included.
Note: The game is self timed at 9 seconds per slide, as that's what worked best in my classroom, but you can change the length of the timing in the same way you'd change any slide timing in Powerpoint. This is great for increasing fact fluency as you decrease the time by one second.
To try out 5 in a Row, download the free Fractions of a Shape game.
Please note: This may not work with Powerpoint compatible programs that do not allow macros. I recommend using Powerpoint itself. Google Slides and Keynote will not allow the slides to randomize. It will not work on Powerpoint 2008 for Macs.
HERE'S WHAT TEACHERS HAVE SAID ABOUT THIS GAME:
"My students BEG to play this game. So easy to implement in the classroom when you have an extra 5 mins. Thank you!"
"Thank you! This activity keeps all of my students engaged. They love it and beg to play almost daily."
"One of the best products I've ever bought!! I love this so much! Once you set it up and get the materials ready, it's so easy to use. Thank you!!"
"My students loved playing this and are begging to play again! I love how simple it is and that with one touch of a button I can mix it up and play again!"
"My class loves this game! And I love that it is automated and I don't have to call out the problems! Gives me a little break to get some other things done!"
"My students BEG to play this game and hate when I tell them its time to put it away. The perfect way to practice multiplication and division facts. Thanks!"
"This game has helped so much to improve my students' fact fluency!
OTHER 5 in a ROW GAMES:
YOU MAY ALSO BE INTERESTED IN:
• 3rd Grade Multiplication and Division Digital Resources for Distance Learning
• Multiplication & Division Task Cards Bundle
• Multiplication with Manipulatives- Spider Math
• Digital Multiplication Bump Games | Dice Games | Distance Learning | Google
• Digital Multiplication Bump Games | Dice Games | Distance Learning | Google
• Digital Multiplication Bump Games | Multiplication Games | Distance Learning |
CLICK HERE to follow me and be notified of future products as soon as they are posted.
_______________________________________________________________

Copyright © Tessa Maguire.
Purchase is for single classroom use only. Please purchase additional licenses if you intend to share this product with colleagues.

You may not redistribute, edit, sell, or otherwise post this product on the internet. You may, however, post a link for others to purchase themselves.
Report this resource to TPT
Standards
to see state-specific standards (only available in the US).
Determine the unknown whole number in a multiplication or division equation relating three whole numbers. For example, determine the unknown number that makes the equation true in each of the equations 8 × ? = 48, 5 = __ ÷ 3, 6 × 6 = ?.
Fluently multiply and divide within 100, using strategies such as the relationship between multiplication and division (e.g., knowing that 8 × 5 = 40, one knows 40 ÷ 5 = 8) or properties of operations. By the end of Grade 3, know from memory all products of two one-digit numbers.
Solve two-step word problems using the four operations. Represent these problems using equations with a letter standing for the unknown quantity. Assess the reasonableness of answers using mental computation and estimation strategies including rounding.
Interpret a multiplication equation as a comparison, e.g., interpret 35 = 5 × 7 as a statement that 35 is 5 times as many as 7 and 7 times as many as 5. Represent verbal statements of multiplicative comparisons as multiplication equations.