Multiplication Fact Practice | Multiplication Facts Fluency Activities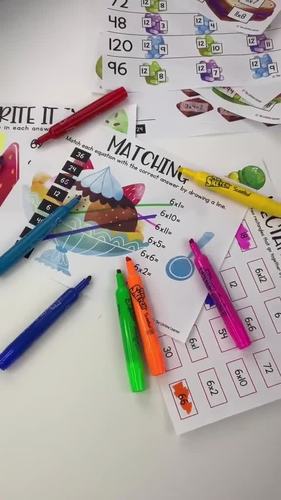 ;
Zip

Google Apps™
Includes Google Apps™
The Teacher-Author indicated this resource includes assets from Google Workspace (e.g. docs, slides, etc.).
What educators are saying
What a resource!!!! We used this in small group and individual activities. My students really loved this.
Amazing. This was like a surprise treasure for me since I purchased it awhile ago and then forgot to use it. Now my students are really enjoying them as review!
Also included in
This is the ULTIMATE third grade math bundle for teaching online and in person!! Do your 3rd grade students need more practice with third grade math standards? Are you looking for engaging, rigorous games that will help students with these important skills (without taking hours to prep!)? Look no fu

Price $102.00

Original Price $204.00

Save $102.00
Description
Multiplication facts made FUN! Having elementary students practice multiplication facts fluency (and enjoy it) can be challenging at times! With athese activities for multiplication fact practice will help students get the fluency practice they need in grades 3, 4, or 5. These multiplication fact games for x1 facts to x12 facts help students practice their math skills on Google Slides OR on paper- in a fun way! They align with common core third and fourth grade math standards, are no-prep, and easy to assign in Google Classroom or use in centers around your room. Every set of math facts has a different theme to keep students engaged! Students practice with factors between 1-12 and products from 1-144. There are 12 sets included (times 1 to times 12 facts).
Multiplication Fact Game Bundle #1
Multiplication Fact Game Bundle #2
Multiplication Fact Game Bundle #3
Multiplication Fact Game Bundle #4
Multiplication Practice Activities Bundle
You've Never Seen Multiplication Facts Taught This Way!
Boot Camp Classroom Transformation with Multiplication Facts
Print: 3 VERSIONS INCLUDED:
Simply print and hand to students. It's that easy!
✔️Color: great for laminating and using in a math center
✔️Black and White: great for sending home or using in packets
✔️No graphics: best version for low on ink and very printer-friendly
Simply assign to students in Google Classroom and let them get started. It's that easy!
✔️high-quality graphics with moveable pieces in Google Slides
✔️you can assign these in Google Classroom for students to complete
Students decide if each multiplication equation is right or wrong. They put a check or an X on each equation.
Students drag a colored dot on top of each multiplication equation based on the answer. It forms a digital color by number picture when students are done.
Students look at each row and decide which equation is incorrect. They put a circle on top of the "odd one out".
Students drag and drop the answer on top of each multiplication equation.
Students match the equation to the correct answer by dragging the arrow.
Students type the correct answer in for each equation.
Students choose the correct number pair that gives the answer written in each row.
Students are given an answer and a number. Students type a multiplication fact that goes with the numbers given.
Students put the same colored rectangle on top of the expression and the answer that matches it.
Students follow the directions given and place a star, triangle, or other items next to the equation it goes with based on their knowledge of multiplication.
x1 Facts
x2 Facts
x3 Facts
x4 Facts
x5 Facts
x6 Facts
x7 Facts
x8 Facts
x9 Facts
x10 Facts
x11 Facts
x12 Facts
You could assign this set of slides/task cards to be due at the end of the week or assign a certain amount of slides/task cards for students to complete each day. If you buy the other multiplication fact packs, students could complete a set of slides/activities each week to slowly learn all of their multiplication facts over time.
-fun
-no prep
-engaging
-rigorous
-easy to use format
-digital / online / remote / distance learning
-print and digital included
-Google Slides or printable math sheets
-partners
-small groups
-math centers
-distance learning
-enrichment
-remediation
-guided math
-independent practice
-spiral review
-fact fluency practice
These upper elementary digital math worksheet-alternatives are perfect as math assessments, quick checks, quizzes, homework, remediation materials, extra practice, work to do at home, pre-assessments, post-assessments, unit tests, and more. These are ideal for online multiplication and division fact practice. The games are repeating and familiar for each fact (so if you buy other packs, your students will be familiar with the games).
✅120 digital practice pages for Google Slides
✅120 printable activities in color and black and white
✅practices common core standards 3.OA.7
✅answer keys included
✅3rd and 4th Grade Common Core and TEKS aligned
TEKS 3.4F: recall facts to multiply up to 10 by 10 with automaticity and recall the corresponding division facts
MA.3.NSO.2.2 Explore multiplication of two whole numbers with products from 0 to 144, and related division facts.
MA.3.NSO.2.4 Multiply two whole numbers from 0 to 12 and divide using related facts with procedural reliability.
Check out the preview for more.
----------------------------------------------------------------------------------
-Multiplication Fact Stories (You've Never Seen Multiplication Facts Taught This Way!!)
----------------------------------------------------------------------------------
Other Information:
Follow me and be notified when new products are uploaded. New products are always 50% off for the first 24 hours they are posted.
Thank you so much,
The Lifetime Learner
Copyright information:
Purchasing this product grants permission for use by one teacher in his or her own classroom. If you intend to share with others, please purchase an additional license at a discount!
Questions?
Email me at lindsaythelifetimelearner@gmail.com
Report this resource to TPT
Standards
to see state-specific standards (only available in the US).
Fluently multiply and divide within 100, using strategies such as the relationship between multiplication and division (e.g., knowing that 8 × 5 = 40, one knows 40 ÷ 5 = 8) or properties of operations. By the end of Grade 3, know from memory all products of two one-digit numbers.