Multiplication Fluency Games - 2nd or 3rd Grade Multiply Math Fact Games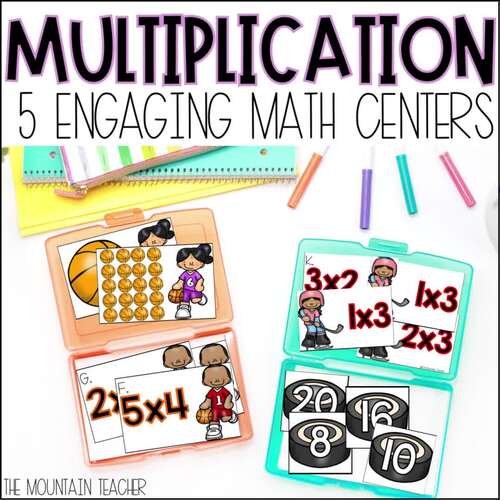 ;
What educators are saying
I LOVED USING THIS FOR GUIDED MATH! It is highly engaging and my students loved it! The baseball center is missing two products, but other than that it's great.
Products in this Bundle (5)
Also included in
Looking for the BEST 2nd grade math centers for your classroom? These 42 hands on math activities are PERFECT for your classroom! Cover every standard including: place value, 2 digit addition and subtraction with regrouping, geometry, fractions, measurement, telling time, US money and multiplication

Price $69.60

Original Price $87.00

Save $17.40
Description
Need some quick and easy multiplication fluency games for 2nd or 3rd graders? Students will practice multiplication fluency with these 5 fun centers. These basic multiplication fluency activities can be played independently, with partners or in a small group.
What's Inside Multiplication Fluency Games for 2nd Grade Math Centers:
Multiply with Arrays
Match Equivalent Equations
Multiply with Repeated Addition
Multiplication Sorting Activity
Multiplication Fact Fluency Game
These 5 fun multiplication math centers are PERFECT for 1st, 2nd or 3rd grade students.
Standards Covered in 2nd Grade Multiplication Fluency Games:
CCSS.Math.Content.2.OA.C.5
CCSS.Math.Content.3.OA.A.1
These 2nd Grade Math Centers and Multiplication Activities Are PERFECT For:
Small Groups
Independent Work
Earlier Finishers
Centers
Unit Review
Test Prep
Spiral Reviewing
& so much more!
Teaching about multiplication? Check out my product for a unit plan and more resources here: 2nd Grade Multiplication Unit
If you like what you see, check out my second grade math center bundle as well: Second Grade Common Core Math Centers BUNDLE
Teaching Duration
1 month
Report this resource to TPT
Standards
to see state-specific standards (only available in the US).
Use addition to find the total number of objects arranged in rectangular arrays with up to 5 rows and up to 5 columns; write an equation to express the total as a sum of equal addends.
Interpret products of whole numbers, e.g., interpret 5 × 7 as the total number of objects in 5 groups of 7 objects each. For example, describe a context in which a total number of objects can be expressed as 5 × 7.