Multiplication Mazes Printable and Digital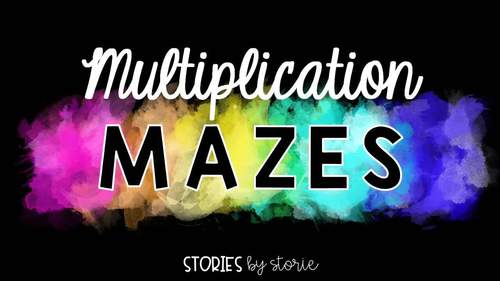 ;
PDF

Google Apps™
Includes Google Apps™
The Teacher-Author indicated this resource includes assets from Google Workspace (e.g. docs, slides, etc.).
What educators are saying
I send this resource home for homework. All of my third graders are telling me how fun homework is ever since! Thanks for sharing. It's a unique and fun way to practice math fluency.
My students love this activity. I give it as a practice station and they love to use the highlighters.
Description
If your students need to practice their multiplication facts, take a look at these multiplication mazes. Students must identify and color the true multiplication facts to follow the maze from start to finish.
Printable AND Digital Options
There are two different versions of mazes for each factor (x2 - x12) plus four mixed facts mazes for a total of 26 mazes in all!! Answer keys are included. This resource also includes a Google Slides link. Once you make a copy and assign the mazes to your students, they can drag and drop colored boxes into place to show the path from start to finish.
These math mazes would be great for math centers, math workshop, morning work, homework, or even included in a fast finisher pack. You can place these mazes in sheet protectors and students can re-use them over and over again.
To learn more about these multiplication mazes, please take a look at the preview. If you have any questions, please don't hesitate to ask. You can also read this blog post to learn more about these multiplication mazes.
Would you like to try before you buy? You can download a FREE sample of these mazes HERE .
•••••••••••••••••••••••••••••••••••••••••••••••••••••••••••••••••••••••••••••••••••••••
You Might Also Like:
Addition and Subtraction Mazes
Other Math Games and Activities
•••••••••••••••••••••••••••••••••••••••••••••••••••••••••••••••••••••••••••••••••••••••
Stay Connected with Stories by Storie
♦ Blog
♦ Facebook
To find out about freebies, discounts, and new products, look for the ★ green star next to my store logo and click follow me.
If you have any questions, comments, or need changes made to this product to fit your classroom needs, please e-mail me: atozscrapbook@gmail.com. You can also contact me through my store's Q & A section.
© Stories by Storie - This item is intended for a SINGLE classroom. Duplication for other classrooms, an entire school, a school district, or for commercial purposes is strictly forbidden. Violations are subject to penalties of the Digital Millennium Copyright Act.
•••••••••••••••••••••••••••••••••••••••••••••••••••••••••••••••••••••••••••••••••••••••
Report this resource to TPT