Multiplication Strategies 7 Methods Step by Step Color Coded Print & DIGITAL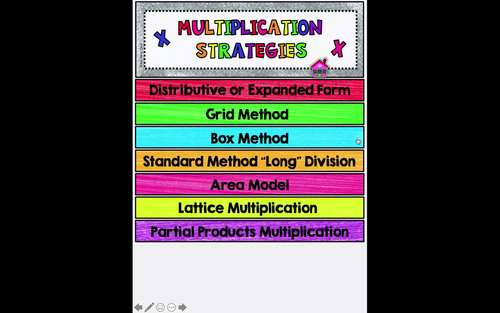 ;
Zip

Google Apps™

Internet Activities
100+ pages print and digital
Includes Google Apps™
The Teacher-Author indicated this resource includes assets from Google Workspace (e.g. docs, slides, etc.).
Also included in
Help students (and adults helping them) learn the steps and multiplication and division strategies. This set includes step-by-step, color coded directions for 7 multiplication methods and 10 division methods. This set includes PowerPoint slides, smaller sized student journal cards, math journal fla

Price $27.00

Original Price $30.00

Save $3.00
Description
Help students (and adults helping them) learn the steps and multiplication strategies. This set shows 7 different methods of multiplying. The steps are color-coded to help students follow the steps. Included are multiplication strategy posters, PowerPoint slideshows, and a student reference flip book in print AND DIGITAL format. This set is a must-have, especially during distance learning to help students master the steps.
Add these to your math word wall, math centers, and homework packets. Use the strategies flip book as a quick reference tool to help students be independent.
The digital interactive flip book comes in two formats. These are in PowerPoint format and YOU get to upload them to your Google Drive™ and convert to Google Slides™ .
Interactive reference flip Book with color coded steps shown step by step
Reference book format with each step in the multiplication process color coded with examples also color coded so students can easily follow the steps
Reference book with steps color coded with workspace for students to fill out the examples
A color coded teacher version is included in a separate file
These are great to support distance learning for all of your learners and make great homework supports as well. This set contains 43 pages of of PDF and 37 pages in PowerPoint slideshow format in both print AND digital format.
DISTANCE LEARNING NOTE: This set is Google Slides™ ready! You will upload the PowerPoint version to your Google Drive™, then click, "Open with Google Slides™". You may use this as a digital product with your students PROVIDED YOU USE THE MATERIALS BEHIND A SECURED OR PASSWORD PROTECTED SITE and materials are NOT posted directly to the Internet for others to view. You may NOT use to any materials created by Mrs. Renz' Class in any for-profit online classes or courses
This set includes print and digital formats:
• Strategy method posters - Print and digital - formatted for use in smaller size for use student Interactive Math Notebooks (color and also B&W)
• Flip Book Reference Tool - This also has a multiplication chart on the back. The digital flip book comes in 2 formats: digital multiplication reference flip book and students fill in the problem. Both digital versions have a digital answer key.
• The set is in Power Point slideshow format and Google-Slides ready format. YOU upload to your Google Drive and share with students.
• Poster format for word walls and use in math centers
• Window flap Interactive Notebook page - to test student knowledge of the strategies.
• Worksheet - to check understanding
Multiplication Strategies Taught:
Area MultiplicationModel
Box Multiplication Method
Distributive Multiplication
Expanded Form Multiplication Method
Grid Multiplication Method
Lattice Multiplication Method
Partial Products Multiplication Method
Standard Traditional "Long" Multiplication Method
Enjoy!
------------------------------------------------------------------------------------------------------
You Might Like these Multiplication and Math Products (Grades 3-5):
-------------------------------------------------------------------------------------------------
More Tools for Independence You Might Like (Grades 3-5):
Total Pages
100+ pages print and digital
Answer Key
Does not apply
Report this resource to TPT