Music Class Hello Song: "Hello, Hello Good Morning to You" Video, Mp3 Tracks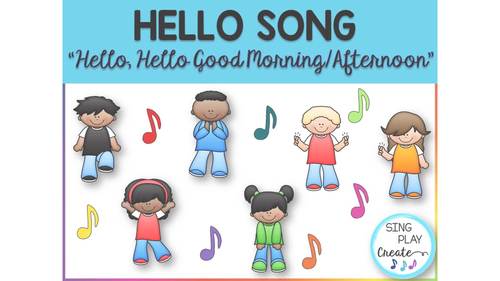 ;
Also included in
Elementary Music Class Resources + BTS BUNDLE: Songs,Chants,Games,Decor, Lessons is packed with elementary music materials like K-6- Hello Songs, Games, Décor, Lessons, Rules, Organization and 7 music lessons, games and activity resources which can help you establish or embellish your music classroo

Price $97.65

Original Price $139.50

Save $41.85

Music Teachers need a core collection of Hello Songs, Games, Activities, Planner and Decor. It's HERE! The Elementary Music Class Resources World BUNDLE: Activities, Songs, Planner, Decor gives you the foundational materials you need to set up or revamp an elementary music program. Music Teachers ne

Price $85.05

Original Price $94.50

Save $9.45

Elementary music teacher curriculum materials. This resource, Music Class Essentials in a World Theme Décor includes teaching materials to establish or embellish your K-6 music classroom with songs, games, chants, activities. PLUS 8 elementary music lesson activity resources that will compliment any

Price $112.05

Original Price $124.50

Save $12.45

Elementary Music Class Hello Songs are a Distance Learning and Google Slides Friendly Video Resource.Elementary music class is more fun with a hello song! Hello Songs are an engaging way to get your students transitioned into elementary music class. Each song comes with a video and presentation. Wel

Price $15.75

Original Price $22.50

Save $6.75

Distance Learning and Google Slides Friendly.VIDEOS and Presentations perfect for the DIGITAL CLASSROOM and DISTANCE LEARNING.The MUSIC CLASS ESSENTIALS BUNDLE provides the basic songs, chants, activities, games, classroom management and decor for the Elementary Music Teacher. The original songs, ga

Price $69.30

Original Price $99.00

Save $29.70

Distance Learning Materials!Elementary Music Resources + Year Long Music Lessons K-6 BUNDLE is for Elementary music teachers who need a core set of materials for their general music program. The elementary music resources and YEAR LONG MUSIC LESSON BUNDLE provides an interactive music curriculum w

Price $357.98

Original Price $397.75

Save $39.77
Description
Music Class starts with a Hello Song. "Hello, Hello Good Morning, Afternoon" is the perfect song to get your students transitioned into music class. VIDEO with vocal and practice tracks to help you teach your students how to move and sing together.
Best for 1st-3rd Grade
This bundle is part of the MUSIC CLASS ESSENTIALS, MUSIC CLASS ESSENTIALS BTS, WORLD MUSIC CLASS AND WORLD MUSIC CLASS BUNDLE.
*Please listen to the VIDEO preview for a sample of the music file.
"Hello" songs are a great way to build classroom community and make everyone in your classroom feel welcome and a part of the class. "Hello" songs are effective activities to help students transition from classroom to music class.
Students enjoy learning a new "Hello" song each year in music class. Singing together at the beginning of class gives students and teacher opportunity to greet each other in a musical way. Students can learn to follow the conductor and warm up voices as they sing their hello song each class time.
The song provides students with a transition activity to help them move from classroom to music class. Teacher's can use the song to welcome the students to music class. In addition, the song can be used to teach music skills and concepts. Students love repetition and love to sing their "own" hello songs.
CONCEPTS
Singing in a group, Singing alone, Pitch, Melody, Rhythm, Body Percussion, Moving and Singing, Following the conductor, Sing High/Low
RESOURCE INCLUDES:
Power Point and PDF with Lyrics and Teaching Ideas
Sheet Music
Mp3 Vocal and Accompaniment Tracks
Teaching Video with Vocals and with Accompaniment Tracks
MORE HELLO SONGS
• Music Class Hello Song: "Good Morning To You" (Afternoon) Video Mp3
• Music Class Hello Song: "Hello My Good Friends" Video, Mp3 Tracks
• Music Class Hello Song: "Hello, Hello How Are You?" Video Mp3 Tracks
• Music Class Hello Song: "This is the Way We Say Hello" Video, Mp3 Tracks
***********************
ABOUT SING PLAY CREATE LLC.
All products and works are copyrighted by Sing Play Create LLC. Buyers may get Free store credit by going to "my purchases" and click on "Provide Feeback". Ratings and helpful feedback are welcomed.
QUESTIONS? Please use the "ASK A QUESTION" section. Or email Sandra@singplaycreate.com
CONNECT WITH ME HERE
Thanks for stopping by!
Sandra
Report this resource to TPT