Music Elements Interactive Bulletin Board/Room Decor Kit: ELEMENTary, My Dears!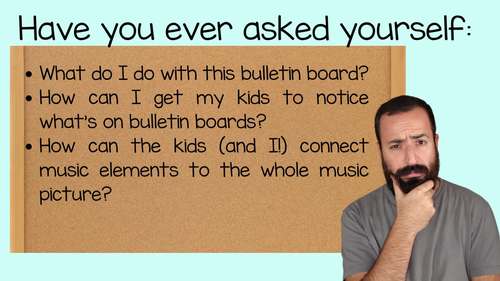 ;
Description
Teaching music elements can be a little challenging. Students might forget the terms throughout the year, but a plain word wall with the terms might not cut it. Include a student's love of puzzles with "ELEMENTary, My Dears" music elements interactive bulletin board game.
As classes learn and master a musical element, you or a student can add another piece of the "music puzzle" to the board. This board can stay up all year round.
Want to make it a little more competitive? Make one copy of the puzzle for each class and put the teachers' names on them. The students, of course, will be pretty focused on mastery!
This kit is for grades 1-5 in various stages as you introduce terms.
Elements included:
Rhythm
Timbre
Meter
Pitch
Dynamics
Harmony
Melody
Tempo
Form
Texture
Kit includes:
decorative detective clip art
small posters for each music element
additional magnifying glass images to use as additional decoration
optional border template
Three different title options (individual letters, title on 8X11 portrait, or 8x11 landscape).
Green color design or black and white design (if you want to use colored paper)
Sample design image
What buyers have said:
"Great concept to represent what we are doing with the kids! We are teaching them to be musical detectives :) Thanks!" S.W.
"LOVE IT!!! Nice colors! GREAT title! Thank you!" D.R.
"Excited to see this; I'm always drawn to detective files. Thank you!" C.G.
"Love how this bulletin board is interactive." B.E.

Other Products Related to Music Elements/Other Decor
• Kodaly Solfege Activity: Melody Mountain Interactive Bulletin Board
• Music Classroom Wall Decor Mega-Bundle:Double Line Design
• Singing Incentive: Vocal Football Interactive Bulletin Board
• Music Dynamics Terms and Dynamics Symbols Music Classroom Decor
• Music In Our Schools Month Music Bulletin Board/Journaling
Please leave a review if you purchase this or any other of my products. Not only is it helpful to me, but you earn credits towards $$$ off purchased in Teachers Pay Teachers.
Report this resource to TPT