Music Games Bundle of Level 1 Music Theory Games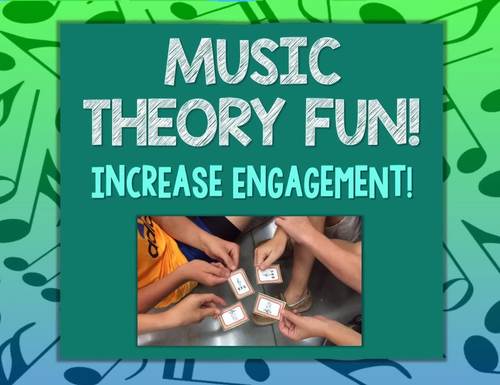 ;
Products in this Bundle (10)
showing 1-5 of 10 products
Also included in
This Music Games SUPER BUNDLE will help your students HAVE FUN while learning and reviewing note names and rhythms! Perfect for any time of year and ANY class size to keep students engaged and excited about music theory practice. These fun music activities would be highly successful with any upper

Price $68.00

Original Price $106.00

Save $38.00
Description
This Music Games Bundle will help your students HAVE FUN while learning and reviewing note names and rhythms! Perfect for any time of year to keep students engaged and learning! These are fantastic band games, choir games and orchestra activities! Good for elementary music centers and secondary music centers, too.
⭐⭐This Level 1 Games bundle is part of our GAMES SUPER BUNDLE! Save even more!⭐⭐
►FOR AN UP-CLOSE LOOK, VIEW OUR PREVIEW VIDEO OR CLICK THE GREEN PREVIEW BUTTON
Games will give you a variety of ways to teach and review simple note values, counting and rhythms such as:
Quarter notes & rests
Half notes & rests
Dotted half notes & rests
Whole notes & rests
Eighth notes & rests
Treble clef notes within the staff
Bass clef notes within the staff
Music symbols & terms
Many of the "Volumes" contain numerous sets. For example, the Rhythm Envelope Game Volume 1 contains 7 different sets, meaning 7 different versions of the game. Each set focuses on a different concept.
There are 9 different "volumes" or products which contain a total of over 20 different individual games.
This Music Theory Games Level 1 Includes:
Match the Beats Introductory Set
I have, Who Has Rhythm Game Set 1
I have, Who Has Note Name Game Set A
Feedback from happy customers:
⭐"Awesome bundle! I love that I can reinforce rhythm and note names in so many ways through these super fun games! Great resource!"
⭐"Enjoyed using these for quick brain breaks with my beginning band kids. You can play them for short amounts of time (around 5-7 minutes) to get students moving and engaged. Kids liked them!"
⭐"I was looking for fun games, these are great and my students really enjoy them."
Great information and easily taught! Love it!"
✅ FOLLOW US FOR UPDATES ON NEW PRODUCTS, SALES AND FREEBIES!
If you have any questions, please feel free to email BandDirector@BandDirectorsTalkshop.com - we are happy to help! Your feedback is important! Please let me know what you think by leaving a comment and earn credits towards future purchases from any TPT store!
Terms of Use:
This product is intended for personal classroom/band hall use only. Buyer does not have rights to share or distribute. The clip art in this document is copyrighted and may not be copied, removed or altered. Additional licenses will always be 50% off (purchase them in the TpT store). If you like this product and want to share it, please purchase the additional license, or purchase an additional license and split the cost of the total with a friend!
Keywords - band director, teaching band, music education, music ed, teaching theory, band games, orchestra games, choir games, music games, beginning band, beginning band games, advanced band games, music theory games, rhythm games, note values, note value games, band activities, music games for middle school, music centers, music center activities, music card games, middle school music games, music games middle school, orchestra activities, choir activities, music activities, back to school, music game, music activities, elementary music activities, music games elementary, music game elementary, end of the year music, end of the year music activities, end of the year music games, music centers, music centers bundle, instrumental music, music theory games, rhythm games, note name games
Report this resource to TPT