Music Name Games and Activities for Back to School Bundle-SEL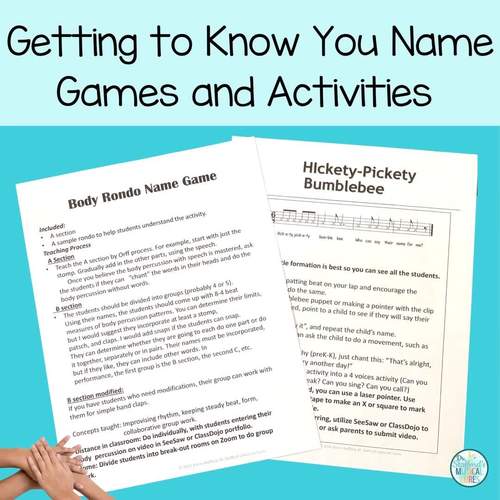 ;
Easel Activities Included
Some resources in this bundle include ready-to-use interactive activities that students can complete on any device. 
Easel by TPT is free to use!
Learn more
.
Products in this Bundle (2)
Bonus
Free! Partner Cards to Help with Groups
Also included in
If you are a music teacher working summer school, or you would just like some fun activities to take outside in the last few weeks of school for your music classes, this growing bundle can be extremely useful. Included are activities for bucket drumming, movement, rhythm, recorder, learning names, p

Price $52.42

Original Price $58.34

Save $5.92
Description

Music teachers can see any number from 100+ to 1,000+, which overwhelms back to school. A student's name is important to them and is necessary for SEL or social-emotional learning. Are you looking for name games and activities that not only help everyone learn names but also help review concepts and engage students?
♫This bundle includes Dr. Stafford's Musical Cure's "Getting to Know You" primary and intermediate music name games and activities with worksheets, songs, journaling, and body percussion to get the students involved in active music-making and provides you with a fun opportunity to get to know your students for back to school, with little to no prep. Several of these activities are suitable for substitutes and include an version.
Name games and activities included in this bundle are:
"This Is My Life" worksheet for K-2
"This Is My Life" worksheet for 3-6
"All About Me" worksheet for K-1
Hello Song for K-2
Hickety-Pickety Bumblebee rhythm notation, music game suggestions, and a large bumblebee graphic to create a pointer-for K-2
Bounce High, Bounce Low on a staff with solfege, Comfortable Starting Pitch (CSP), activity, and concepts-for K-2
Strut, Miss Mary on staff with solfege, CSP, music activity, and concepts.-for primary
Directions for a name body percussion activity.-for K-2
Paw Paw Patch words, concepts, activity, and orchestration for Orff instruments and body percussion/found sound-for 3-6. Also includes two worksheets for sixteenth notes: one for preparation and one for practice (based on the Kodály sequence.)
Chinka-Hanka words, concepts, activity, and orchestration for Orff instruments-for 3-6
Body Rondo Name Game, including Part A, an example for Part B, and directions.-for 3-6
Directions to a Circle Body Percussion Name Game.-for 3-6
Ideas for Use:
Use the "All About Me" worksheets as a good social-emotional activity to get to know the students and let them know their opinions are important.
The worksheets for Paw-Paw Patch come in print AND Easel formats for students who do not like to use pencils and need modifications.
Use the movement and music activities outside while your students get into the swing of back to school.
The folk songs also help reinforce the following concepts: beat, rhythm, pitch, and improvisation.
The body percussion activities are great for form, improvisation, and cooperative learning.
Best of all: Your students will be engaged!
This complete bundle is almost $3 off what you would pay if you bought the two name game packages separately. What a deal for the beginning of school!
**BONUS: Dr. Stafford's new partner cards. Great to help divide students into pairs or groups!
⭐⭐⭐⭐⭐Dana says: "There were many great beginning of the year activities in this resource. I enjoyed using it with my kids last school year."
Files
Report this resource to TPT