Music Rhythm Games: Rhythm Relay for Reviewing Music Rhythm Patterns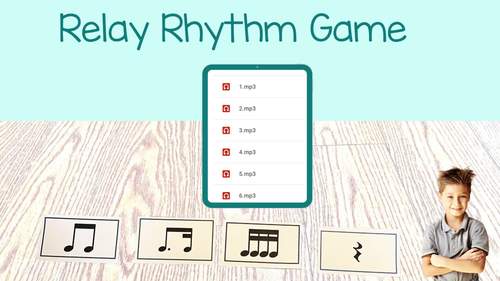 ;
1

st

- 12

th
,
Higher Education
,
Homeschool
Also included in
If you are a music teacher working summer school, or you would just like some fun activities to take outside in the last few weeks of school for your music classes, this growing bundle can be extremely useful. Included are activities for bucket drumming, movement, rhythm, recorder, learning names, p

Price $52.42

Original Price $58.34

Save $5.92
Description
Back to school, and need to get their attention when reviewing music rhythm patterns? Use this music rhythm game that includes movement with a little friendly competition. If you can beg, borrow, or steal a few feet of running space, you can play this rhythm game to help students notate rhythmic patterns in a fun way! This music rhythm activity includes reproducible files of rhythm patterns, MP3 clips of 4-beat rhythm patterns, in sets of 13, suitable for introduction in grades 1-5 (organized in folders by age-appropriate levels), directions, suggestions for diversified teaching, and answer keys. Great for the elementary music teacher, homeschool music groups, university general music methods classes, and as a fun review for secondary instrumental and vocal ensembles, this activity is a sneaky way to assess knowledge of rhythm patterns. Great back-to-school activity!
Contents include:
Quarter note/eighth note/quarter rest music rhythm patterns (beginners)
Half note patterns
Sixteenth note/Eighth-sixteenth/Dotted eighth-sixteenth/triplet patterns (advanced)
MP3 clips to play before the students run to put the rhythms in order.
Directions
Suggestions for diversified teaching and adaptations
Answer keys
What Buyers Say:
⭐Laura: Loads of fun! Great assessment!
⭐Rachel: This was great fun, and I played this with my 5th, 6th, 7th, and 8th graders. They got really competitive. I got to see who was hearing the subdivisions of the beat accurately and could help them work on finding the strong beats versus weak beats to help break it down. We also strategized about what to listen for, so they could get better with each round. It really helped them to be better listeners. Thank you!
⭐Nicole: Great review tool!
⭐Holly: Awesome! Thanks!

Related Music Rhythm Game Products
• Forbidden Rhythm Boom Cards™, Half Note Edition
• Forbidden Rhythm Sixteenth Note Edition for Boom Learning℠
• Forbidden Rhythm Sixteenth Note Edition for Google Classroom™
• Forbidden Rhythm: In the Jungle Version(Half Note)For Use with Google Classroom
• Half Note Rhythm Sports Color Pages
• Practicing Dotted Quarter/Eighth Rhythms with "Make New Friends" for February
• Rhythm Boom Cards Ta and titi, Summer Theme
• Rhythm Fan-n-Pick Kagan Game (Ta, ti-ti-, rest, half note)
• Rhythm ta ti-ti rest Boomcards Match Winter Words
• Rhythmic Ingredients for Hot Cross Buns-Half Note Prepare with Boom Cards™
• Rhythmic Ingredients with Hot Cross Buns Boom Cards™, Level One
• Sixteenth Note (tika tika) Rhythm Sports Color Pages
• Ti-ta-ti Rhythm Activities with Alabama Gal
Teaching Duration
45 minutes
Report this resource to TPT