Music Theory Activities Bundle: Rhythms, Notes, Rests, Music Alphabet, Dynamics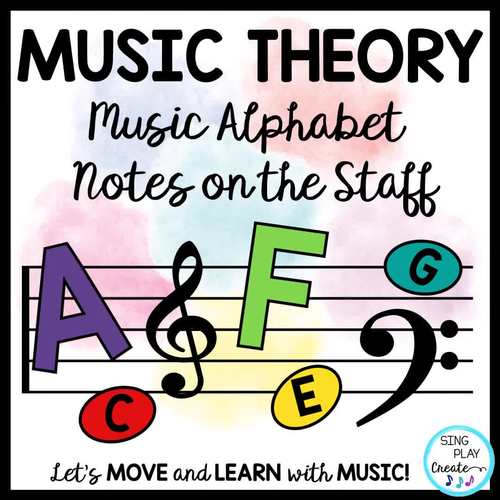 ;
What educators are saying
You definitely get your money's worth out of this resource! There's so much useful stuff in here, I'd highly recommend having it on hand for general music classes.
Products in this Bundle (3)
Bonus
MUSIC THEORY RESOURCE GUIDE
Also included in
Elementary music teacher basic resource bundle of lessons, decor and planning booklet. Elementary music teachers looking for a resource to establish their music classroom and lessons across grade levels will LOVE this music teacher starter bundle. These materials will help you establish your classr

Price $167.85

Original Price $186.50

Save $18.65
Description
Distance Learning and Google Slides Friendly
Get all the music theory essentials in this bundle! Note and Rest names, values, pitch, rhythms, symbols for your music classes. This resource is especially helpful for upper elementary and middle school students. Lessons, presentations, posters, flash cards, animated videos and worksheets provide interactive opportunities for students to learn basic music theory essentials. Catch up your students so that the music making can begin! Level 1-6 Rhythm Videos. Best for 1-8 grades.
* All Videos and Presentation are Easily uploaded and usable in Google Classroom or other Digital Learning Scenarios. Feel Free to email me with questions. Sandra@singplaycreate.com
Please watch each resource preview video for a complete view of the resource as the files are huge and need to be view individually.
GENERAL OVER VIEW OF WHAT THIS RESOURCE INCLUDES:
Teaching Presentations
Lessons
Games
Activities
I Can Statements
Posters
Flash Cards
Worksheets
Videos
Song Mp3 Tracks
I CAN STATEMENTS FOR THE BUNDLE:
NOTE VALUES AND RHYTHMS:
I can show note values.
I can show note and rest values.
I can play a rhythm pattern.
I can play quarter notes.
I can play eighth notes.
I can play sixteenth notes.
I can play half notes.
I can play dotted half notes.
I can play whole notes.
I can play syncopation.
I can play a rhythm pattern.
I can improvise a rhythm pattern.
MUSIC NOTE NAMES:
I can identify the notes of the treble clef staff.
I can identify the line of the treble clef
I can identify the spaces of the treble clef
I can identify the spaces of the bass clef
I can identify the line of the bass clef
I can identify the notes of the bass clef.
MUSIC SYMBOLS:
I can read music symbols.
I can show fast and slow.
I can show high and low.
I can show loud and soft.
I can show long and short.
I can show forte and piano.
I can show legato and staccato.
I can show allegro and largo.
I can show crescendo and decrescendo.
I can show dynamics.
NOTES/RESTS AND RHYTHMS RESOURCE:
Teaching Presentation and PDF with review of Note Names & Values of 6 Rhythm Levels.
6 Rhythm Levels
4 Animated Timed VIDEOS with Rhythm practice and assessment.
15 Worksheets
Games & Activities for 6 Rhythm Levels
Flash Cards & Posters
CONCEPTS:
Whole note and rest
Half note and rest
Quarter note and rest
Eighth note and rest
Sixteenth note and rest
Dotted half note and rest
Dotted quarter note
Syncopa
Triplet
MUSIC ALPHABET AND NOTES OF THE STAFF RESOURCE:
8 Lessons
10 Games
20 Worksheets
"Musical Scale" Song to learn the C scale.
Presentation and PDF files
I Can's
Flash Cards & Posters
CONCEPTS:
Note names and place on the Treble and Bass clef.
Names of the notes in the music alphabet.
MUSIC SYMBOLS:
Presentation
Posters
Flash Cards
10 Worksheets
I Can Statements
CONCEPTS:
Treble Clef, Bass Clef, Sharp, Flat, Repeat Sign, Crescendo, Decrescendo, Staff, Fermata, Natural, Time Signature, Fortissimo, Forte, Mezzo Forte, Mezzo Piano, Piano, Pianissimo, Segno, Coda, Bar line, Double Bar line.
USE THIS RESOURCE:
Use this resource with a smart board or computer.
Print the pages for group activities.
Use the videos, presentations, worksheets in Google Classrooms.
Develop improvising skills.
Rhythm Videos are timed rhythms for levels 1-8
***********************
ABOUT SING PLAY CREATE LLC.
All products and works are copyrighted by Sing Play Create LLC.
For questions about content, other resources and copying, please use the "ASK A QUESTION" section.
Want a Freebie every month? Click on the Star under my store name and FOLLOW ME.
Want to get Free store Credits? Go to "my purchases" and click on "Provide Feedback".
Follow Me here for Freebies and Sales
Thanks for stopping by!
Sandra
Report this resource to TPT