Music Theory Worksheets - Over 200 No Prep Pages for Music Class & Piano Lessons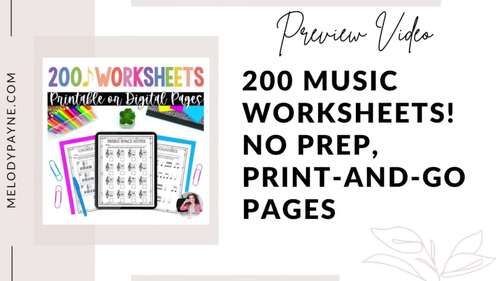 ;
PreK - 12

th
,
Higher Education
,
Adult Education
,
Homeschool
209 black & white, 209 answer keys, 209 TpT Easel pages
Easel Activity Included
This resource includes a ready-to-use interactive activity students can complete on any device. 
Easel by TPT is free to use!
Learn more
.
Compatible with Digital Devices
The Teacher-Author has indicated that this resource can be used for device-based learning.
What educators are saying
This is a phenomenal resource for learning music theory in a really fun way. My son looks forward to the work and is learning snd having fun at the same time. Thanks so much
I have used this with my small group of piano students. Easy to use and tons of different activities to help with beginning piano skills.
Also included in
Review a wide variety of music concepts with this music worksheets mega bundle! Includes music theory, rhythm, treble and bass clef notes on the staff (alto clef too!), intervals, music symbols, tracing, drawing, identifying, defining, piano keys, note values and music math, instruments, folk songs,

Price $73.50

Original Price $101.50

Save $28.00
Description
Are you looking for an easy way to work on music theory concepts with your students? This comprehensive set of over 200 music theory worksheets is the perfect way to review concepts from rhythms, to music math, notes on the staff, piano keys, music symbols, music terms and vocabulary, time signatures, scales, chords, and much more!
These no-prep print-and-go music pages are great for musicians of any age and include music theory for beginners through intermediate students. Grab a copy today and make lesson planning easy!
Students can now complete these worksheets digitally! In addition to the original PDF download, the worksheets also have an interactive digital layer. Assign the pages in Google Classroom. Learn more about TpT Digital EASEL Activities HERE prior to purchasing.
⭐️ Watch the full-length preview video here.
⭐️ View the preview to see photos and more details for 150 of the worksheets!
Higher, Lower, Same music worksheets (treble, bass, and alto clef): 9 pages
Lines & Spaces music worksheets (treble, bass, and alto clef): 15 pages
Harmonic and melodic intervals worksheets (treble, bass, and alto clef): 27 pages
Note Naming Practice (line notes, space notes, and more, treble, bass, and alto clef): 16 pages
Draw Notes on the Staff (line notes and space notes, treble, bass, and alto clef): 9 pages
Musical Spelling Bee worksheets (treble, bass, and alto clef): 12 pages
Music Word Search Puzzles (music symbols, dynamics, note and rest values, composers, brass instruments, percussion instruments, wind instruments, strings, folk instruments): 9 pages
Music Crossword Puzzles: 6 pages with word banks (also includes 6 additional pages without word banks) (tempo terms, dynamics, instruments of China, instruments of Africa, classroom instruments, American folk instruments)
Write the Rhythm (using rhythm syllables of your choice): 6 pages
Time Signatures worksheets: 6 pages
Drawing Music Symbols (variety of music symbols, dynamics, parts of the grand staff, note and rest values): 5 pages
Identifying Music Symbols: 4 pages
Piano Keys worksheets (matching, identifying, and labeling piano keys, plus the staff): 8 pages
5-Note Scales worksheets (Pentascales, 5-finger scales) (matching, identifying, labeling, writing): 6 pages
Chords worksheets (major and minor chords on the piano keyboard and staff: 14 pages
Music Math rhythm worksheets (addition, subtraction, multiplication): 10 pages
Music Terminology (write the definition, unscramble and illustrate the term, unscramble the term): 10 pages
Music Symbols Coloring Page Worksheets (identify, define, trace and draw, color the symbol): 21 pages
Just for Fun music activity pages: Words within words (define a music term such as accelerando, find as many smaller words with the larger word as possible and create a word cloud): 10 pages
Answer keys
View the preview to see photos and more details for 150 of the worksheets!
Click the button for a peek at 150 of the pages and watch the full-length preview video to see even more!
These music worksheets use American music terminology (quarter note, half, whole, etc.).
A huge majority of the pages do not have specific musical terms at all (most of the pages use music symbols), and can be used by anyone.
These are perfect to leave as music sub worksheets.
Private piano lessons (in person and online piano curriculum supplement)
Group piano class
Elementary music class
Beginning strings
Middle school music
Choir
High school music appreciation
College non-majors who are enrolled in beginning piano class
Adults enrolled in continuing education courses
Beginning music theory class
Music theory testing
Music sub activities
Back to school music activities
Supplement for your music curriculum
These 200 music theory worksheets also make great end of year music activities
Perfect amount of white space keeps pages from looking overwhelming
Large, easy to read font size
Instructions are easy to understand
Concepts are divided into small tasks
Accessible for a variety of ages
One teacher said that having an all-inclusive set of worksheets that covers beginning through intermediate music concepts gives you plenty of options to assign to your students.
These worksheets are easy to print.
They can help you provide tangible evidence of learning for your admin.
These 200 music theory worksheets can save you so much time lesson planning.
You can use these worksheets with any age of student.
These music worksheets make differentiation easy.
They're a great homework or review assignment.
Students enjoy them!
This makes the worksheets even more versatile because you can print them to use with your in-person piano students or use them on your iPad when you're teaching online!
Keep your hard copies of the 200 music theory worksheets in a binder and you'll always have the perfect worksheet for each student at your fingertips.
⭐️⭐️⭐️⭐️⭐️ Ms. Neids Music Market says, "These are just fanTASTIC! They are just print and go, user friendly for teachers, and user friendly for students! Need a quick sub plan? Print some off. Want to use them for an in-class assessment? Print some off. Want to create a competition for theory in class? Print some off."
⭐️⭐️⭐️⭐️⭐️ So many worksheets! So much time saved for me! This is an unbelievable collection of sheets. Thank you for being willing to share.
⭐️⭐️⭐️⭐️⭐️ Wow! Tons of easy to print worksheets for students to reinforce their musical skills, and also show the admin the tangible data evidence they need.

⭐️⭐️⭐️⭐️⭐️ This worksheet set is absolutely amazing! It covers concepts for both the beginner and the intermediate musician and I feel like I never run out of worksheets from this set to give to my students of any age group.
⭐️⭐️⭐️⭐️⭐️ SO impressed with this set of worksheets! [...] I was looking for one item I could use across my piano studio which has a range in age from 5-17. Every student in my studio will have supplemental needs met through this packet. I've often thought "if there was just a worksheet on..." and here it is! Reinforcing harmonic and melodic, sharps, flats, building of chords, etc. [...] I'm more than happy!
⭐️⭐️⭐️⭐️⭐️ The BEST worksheets! Well made, easy to follow, and very nice looking! There are so many different worksheets in this packet, it makes differentiation very easy when needed. Great for all ages.

⭐️⭐️⭐️⭐️⭐️ If you're looking for all inclusive sets of worksheets for students, LOOK NO FURTHER. One of the best things I've spent money on!!
⭐️⭐️⭐️⭐️⭐️ Thank you for such an AMAZING resource. I use these worksheets all the time! They are easy to understand and my kids enjoy doing them. Thank you, thank you!!!
⭐️⭐️⭐️⭐️⭐️ So many great worksheets perfect for every occasion! I always want more worksheets to send as homework for review and these meet all my expectations!
❤️ Related resources you'll love!
_________________________________________________________________
Copyright © Melody Payne. All rights reserved.
Purchasing this resources grants you a single user license for use by a single teacher. (Piano teachers: this is a studio license.)
Purchase multiple licenses for multiple users (multiple teachers) at checkout.
Having trouble with a file? Please leave a question on the Q&A tab, submit a , or .
Total Pages
209 black & white, 209 answer keys, 209 TpT Easel pages
Teaching Duration
Lifelong tool
Report this resource to TPT