Musical Mansion: an interactive activity for distance learning - music sub plan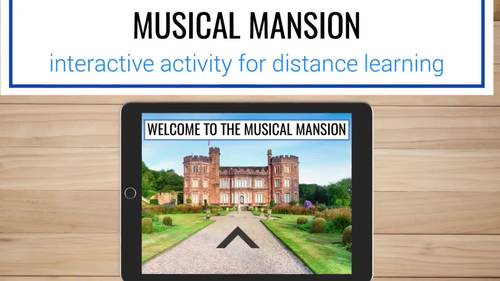 ;
Zip

Google Apps™
Includes Google Apps™
The Teacher-Author indicated this resource includes assets from Google Workspace (e.g. docs, slides, etc.).
What educators are saying
I used this with classes that were quarantined this past fall. My students enjoyed exploring the mansion (as did I!).
I loved exploring this resource, and the students found it easy to navigate with minimal instructions from me. Lots of potential here for other lessons, even during in-person instruction. Thanks!
Description
Musical Mansion is an interactive presentation packed with over 40 links of musical playalongs, music games, an interactive piano, interviews with composers, music-themed stories, and much more. Students explore the mansion, finding new activities along the way, and possibly even a secret tunnel…but they say that's just a rumor. It's the perfect no prep sub plan for distance or in-person learning.
#musiccreweasyprep #musiccrewsubplans
⚠️ Available in Google Slides & PowerPoint ⚠️
This resource is perfect for:
✅ elementary music teachers
✅ student teachers
✅ homeschoolers
WHAT YOU'LL GET WITH YOUR DOWNLOAD:
MAIN CONTENT
✺ Six separate rooms for students to explore
✺ 40+ links with interactive games, music, movement activities, instruments, composer interviews, and more.
✺ Spreadsheet with the list of links used and where you can find them in the mansion
✺ Detailed instructions for using the presentation in both Google Slides and PowerPoint
►Watch the video preview for a closer look into this resource
FOR MORE DISTANCE LEARNING RESOURCES, CLICK HERE
#musiccrewdistancePRIMARY
#musiccrewdistanceUPPER
#musiccrewdistanceGENERAL
#DistanceLearningTpT
Report this resource to TPT