My Emotions Monster Bundle for Google Classroom Distance Learning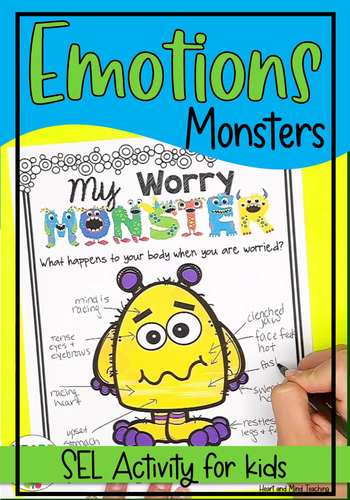 ;
Zip

Google Apps™

Internet Activities
Includes Google Apps™
This bundle contains one or more resources with Google apps (e.g. docs, slides, etc.).
Easel Activities Included
Some resources in this bundle include ready-to-use interactive activities that students can complete on any device. 
Easel by TPT is free to use!
Learn more
.
What educators are saying
Able to go through each feeling and identify triggers, people and places for each feeling. Students loved making their emotion monsters!
I have been using this every morning during our SEL time. My students LOVE coloring in their monsters!
Products in this Bundle (10)
showing 1-5 of 10 products
Description
Students will be identifying feelings and emotions and how they look and feel when they experience different emotions. They will also identify different environments and people that impact their emotions. Great social emotional learning activity! Includes a digital version for use with Google Slides and Google Classroom for digital learning.
The 10 Emotion Monsters are:
✔️Anger
✔️Sadness
✔️Worry
✔️Happy
✔️Calm
✔️Scared
✔️Frustrated
✔️Embarrassed
✔️Proud
✔️Disappointed
Monster Includes:
►Activity description including instructions/walk-through of activity, objectives, materials, guiding questions, SEL competencies addressed, and ASCA standards.
►One example of a completed Monster, and one blank Monster.
►3 pages of Color your Monster (identifying what makes them feel that emotion)
►2 pages of People/Places that cause that emotion.
►Black & White versions included.
product included in bundle ONLY
My Emotions Monster with a build your own monster and identifying all 10 of the monster emotions. (PDF version only)
❓Where can I find the google classroom link?
Google slides link and instructions are on page 18 of each product.
❓What formats are included?
-Pdf version to print out.
-Google Slides version.
❓What mode should I use this in google slides?
These products are meant to be used in "edit" mode (not "presentation" mode). Edit mode is the only mode that allows drag & drop and writing in text boxes.
─────────────────────────────────────────────────────────────
⭐Recommended Resources⭐
★ Behavior Intervention Toolbox Bundle
★ Counseling Digital Lessons BUNDLE
★COVID-19 Safety posters and coping workbook EDITABLE
─────────────────────────────────────────────────────────────
✨Let's stay in touch ✨
❤️Click here to follow my TPT store to be updated about new products which are 50% off the first 24 hours posted!
Heart and Mind Teaching on Pinterest
Heart and Mind Teaching on Facebook
Heart and Mind Teaching on Instagram
Heart and Mind Teaching Website and Newsletter (sign up for my newsletter to get access to my freebie library).
─────────────────────────────────────────────────────────────
Copyright 2020 © Heart and Mind Teaching.
If you have questions please contact me: HeartandMindTeaching@gmail.com
Report this resource to TPT