My Favorites Boom Cards™ Getting to Know You Icebreaker | All About Me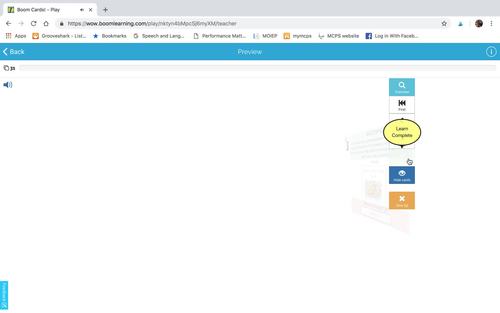 ;
Compatible with Digital Devices
The Teacher-Author has indicated that this resource can be used for device-based learning.
What educators are saying
Used with my young adult student with Down Syndrome working on conversational skills. Served our purpose well! thanks!
I am looking forward to using this activity with my students. It looks fun and engaging and will be a great way to get to know each other!
Also included in
Getting to Know You Game | My Favorites Print & Boom Cards™ BUNDLE This BUNDLE includes a Print version (Getting to Know You Game : My Favorites) & No-Print Boom Cards™ (My Favorites BOOM Cards™ : A Getting to Know You Activity). Perfect grab-&-go activities for speech therapy sessions,

Price $5.40

Original Price $6.75

Save $1.35

Back to School Boom Cards™ for Speech-Language Therapy BUNDLE Are you a speech-language pathologist? This Bundle includes 13 resources to get you started for the school year. Perfect bundle if you are an SLP building rapport with your students. Targets a variety of language skills with a back to sch

Price $36.00

Original Price $53.00

Save $17.00
Description
My Favorites Boom Cards™ A Getting to Know You These digital task cards are the perfect way to get to know your students. Excellent for back-to-school or building rapport with new students in your classroom, speech therapy, etc. You can learn tons about your students! Each task card includes a visual and requires the student to type a response to fill-in a sentence about MY FAVORITES (e.g. My favorite food is ____.). If your students are not able to complete the fill-in sentence by typing, practice verbally by asking each other questions about favorite activities, interests, and preferences. Great for team building, introducing new students to the classroom, and conducting class meetings. As a speech pathologist, I use these materials often when meeting new students and clients. Target answering and asking questions, as well as build social skills.
Examples:
*favorite game *favorite family member *favorite hobby
*favorite part about recess *favorite book *favorite song *favorite color favorite season *my least favorite thing to do - 28 TOTAL
Preview the activity here first!
Super fun for students!
No printing, laminating, cutting, binding, or data collection necessary!!
*******
Interested in a similar Print product?
Getting to Know You Game : My Favorites
Loving Boom Cards™ ??
Verb BOOM Cards™ BUNDLE - Sorting Activity
Verb BOOM CARDS™ Task Cards BUNDLE !
Opposites BOOM CARDS™ Real Photos BUNDLE !
*******
What do you need to do to get started with your BOOM cards™?
*Create an Account with Boom Learning (free & premium options available)
*Use cards through the Boom Learning website or app. You must be connected to the Internet.
With a FREE Boom Learning℠ Account you will be able to:
*Make up to 5 decks of your own
*Track student progress for 5 students
*Use Boom Cards™ with unlimited students for practice (without data tracking)
******
More About Boom Learning℠
To use Boom Cards, you must be connected to the Internet. Boom Cards play on modern browsers (Chrome, Safari, Firefox, and Edge). Apps are available for Android, iPads, iPhones, and Kindle Fires. For security and privacy, adults must have a Boom Learning account to use and assign Boom Cards. You will be able to assign the Boom Cards you are buying with "Fast Pins," (play provides instant feedback for self-grading Boom Cards). Fast Play is always a free way for students to engage with Boom Cards decks. For additional assignment options you'll need a premium account. If you are new to Boom Learning, you will be offered a free trial of our premium account. Read here for details: http://bit.ly/BoomTrial.
You may be eligible for a free trial from Boom Learning. Read here for details: http://bit.ly/BoomTrial. If you choose not to stay on a premium account after your free trial, you will still be able to assign all your Boom Cards to as many students as you see fit using Fast Play pins (which give instant feedback for decks that are self-grading).
Boom Learning and Boom Cards are the trademarks of Boom Learning Inc. Used with permission.
Copyright information:
Purchasing this product grants permission for use by one individual. If you'd like to share with others, please purchase an additional license.
******
Have fun and feel free to contact me with any comments, questions, or concerns. Thanks! Heather
******
Follow me for therapy ideas, sales, inspiration, & more!
******
Please take a moment and leave a product rating. I REALLY appreciate it & YOU can earn TpT credits toward more great products. Thanks in advance. Heather
******
Report this resource to TPT