My Sneaky Snowman's Adventure Narrative Writing Unit | Writing & Art Project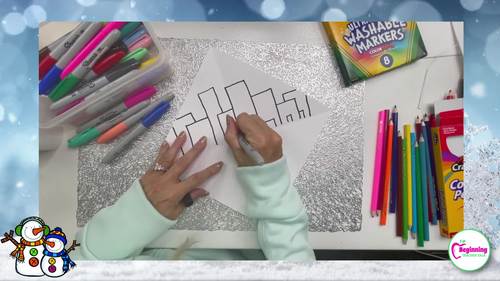 ;
Also included in
If you're a new teacher in 2nd, 3rd, or 4th grade, you're going to LOVE this carefully selected bundle of resources to use with your students in December to keep them inspired and engaged! Let's set you up for success and make December the best month yet with fun, creative, and effective classroom m

Price $29.99

Original Price $33.00

Save $3.01
Description
Narrative writing doesn't have to be limited to just a plain old paragraph! Teach your students how to draft, write, and edit a narrative paragraph AND engage them with an art project at the same time. My Sneaky Snowman's Adventure is a narrative writing unit and art project that's just perfect for the winter season! 
Not only will your students produce a narrative paragraph, but they will flex their creativity and produce a Sneaky Snowman Diorama and Sneaky Snowman flipbook! 
What You Get In This Narrative Writing Unit: 
Alignment to Common Core Writing Standards
10 Days of Lesson Plans (30-45 minutes per lesson) 
Printable writing and activity sheets for each lesson
Directions for diorama and flipbook activities 
Final Writing Grading Rubric 
Scope and Sequence for This Narrative Writing Unit: 
Part One: Character Development, Creating Flip Books, & Building Dioramas
Lesson 1: What If Snowmen Really Did Come Alive at Night?
(Writing: Flip Book Steps #1 and #2)
Lesson 2: Creating our Snowman Dioramas (Art)
(10 pre-drawn diorama backgrounds included)
Lesson 3: Let's Get to Know Our Snowmen (Writing: Flip Book Step #3)
Lesson 4: Creating our Snowmen (Art)
Lesson 5: My Snowman's Superpower (Writing: Flip Book Step #4)
Part Two: Writing Our Sneaky Snowman's Adventure!
Lesson 6: Writing a Strong Introductory Sentence
Lesson 7: Here's What Happened First (and Next)
Lesson 8: My Snowman's Problem (& How He or She Solved It)
Lesson 9: Writing a Fantastic Conclusion
Lesson 10: Writing our Final Copy for My Flip Book: Putting It All Together!
(Flip Book Step #5 and Front Cover of Flip Books)
Why Teachers Like You LOVE This Resource: 
"My students absolutely loved this writing project. They were excited every day throughout the unit. The snowman dioramas turned out wonderful as well. Thank you for providing us with an activity that sparked joy in these cold and dreary days of February." - Great Lakes Teaching
"The kids loved this.  It was a little challenging but I modified it and we enjoyed it." - Shannon B. 
Learn More About My Sneaky Snowman: 
Episode #144 -   My Sneaky Snowman's Adventure: A Narrative Writing Project
Check Out All Of My Writing Units: 
Meet My Li'l Monster Informational Writing Unit 
My Tricky Turkey Informational Writing Unit 
My Sneaky Snowman's Adventure Narrative Writing Unit
Psssst..if you love The Sneaky Snowman, then you'll adore my ! 
Looking for more great ideas and tips for your first, second, and third year in the classroom? Just because you're a beginning elementary teacher, there's no need for you to struggle like one. Subscribe to Beginning Teacher Talk, the podcast where we talk about all the things about teaching you wish you learned in college, share teaching stories and classroom management tips and tricks, and help you to succeed in the classroom:
Click here to listen on iTunes.
Click here to listen on Spotify.
Click here to listen on Google Play.
Want support from a community of passionate educators dedicated to working smarter? Join my Private Beginning Teacher Talk FB Group for tips, tricks, and exclusive contests. 
Get credit to spend on TpT resources: 
Log in, and go to "My Purchases".
Click "Provide Feedback" beside your purchase
Each time you give feedback, TpT will give you credits towards future purchases!
Click on the green ★ to follow my store and get notifications about new resources and freebies! 
I hope to connect with you soon!
XO,
Lori
Teaching Duration
2 Weeks
Report this resource to TPT
Standards
to see state-specific standards (only available in the US).
Write narratives in which they recount a well-elaborated event or short sequence of events, include details to describe actions, thoughts, and feelings, use temporal words to signal event order, and provide a sense of closure.
With guidance and support from adults and peers, focus on a topic and strengthen writing as needed by revising and editing.
Recall information from experiences or gather information from provided sources to answer a question.
Write narratives to develop real or imagined experiences or events using effective technique, descriptive details, and clear event sequences.
Establish a situation and introduce a narrator and/or characters; organize an event sequence that unfolds naturally.