My Transition Portfolio - Student Fillable eBook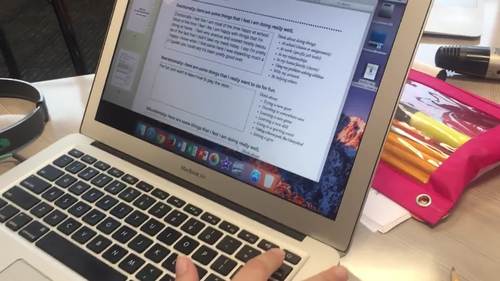 ;
Description
My Transition Portfolio
Centered around intuitive prompts that have been proven to break down even the most difficult of communication barriers, My Transition Portfolio is a comprehensive companion guide specifically developed to unlock self-determination in young adults with disabilities.
A series of 14 Keys like "Know Yourself Well", "Find Careers that Match You" and "Lead Your Own IEP" are each developed to draw out individual preferences and in turn create opportunities rooted in systematic goal-setting. This is a COMPREHENSIVE approach and tool to support students in their transition to adulthood.
Answer Key
Does not apply
Report this resource to TPT
Standards
to see state-specific standards (only available in the US).
Use words, phrases, and clauses to link the major sections of the text, create cohesion, and clarify the relationships between claim(s) and reasons, between reasons and evidence, and between claim(s) and counterclaims.
Establish and maintain a formal style and objective tone while attending to the norms and conventions of the discipline in which they are writing.
Write informative/explanatory texts to examine and convey complex ideas, concepts, and information clearly and accurately through the effective selection, organization, and analysis of content.
Introduce a topic; organize complex ideas, concepts, and information to make important connections and distinctions; include formatting (e.g., headings), graphics (e.g., figures, tables), and multimedia when useful to aiding comprehension.
Produce clear and coherent writing in which the development, organization, and style are appropriate to task, purpose, and audience.