Mysteries Multiplied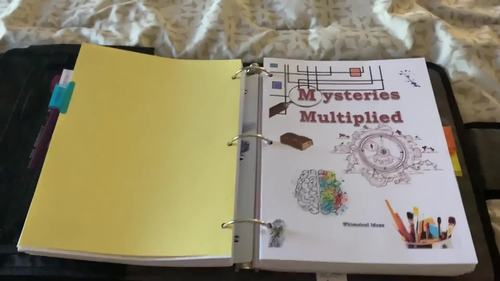 ;
Description
Note to Parents:
What is this book?
Mysteries Multiplied is intended to help a child master multiplication and division. It is not intended to be a full math curriculum, though it does teach a variety of related concepts. I do suggest setting aside all other math programs while the child is using this book. When a child is confident in multiplication and division, it will help them tremendously in higher skills. There is little point in a child learning new concepts if they are still struggling in the basics. This book is intended to build confidence in children that have come to believe they are "no good" at math.
Who is this book for?*
I created Mysteries Multiplied for my imaginative daughter. She is a bright child that loves telling stories, creating art, and playing music. Creative children, like my daughter, struggle with mundane tasks that do not relate to their interests. Traditional approaches that emphasize memorization and drills will leave them in tears. Creative children (and really all children) learn best when they are having fun and doing things that focus on their interests and skills rather than their weaknesses. In this book I weave math into my daughter's favorite activities, like art and storytelling. * This book is intended for upper elementary children (5th-6th) who read well and work independently.
How is this book to be used?
Please do not rush the child. This book is designed for a child to do 2-4 pages daily, but they may do as many (or as few) as they wish. Do not be alarmed if they spend a long time decorating their pages. Creative children need time to daydream in order to process ideas. rather than just being told to do something. Creative children are out-of-the-box thinkers and thus need an out-of-the-box approach to education.
Who is this book not for?
This book may not be the best choice for practical children that have little interest in art. My oldest son, for example, hates all things art related. Asking him to draw a picture would be a punishment. Logical thinking children often excel at memorization and get frustrated or bored with curriculum that moves too slowly or is repetitive. They won't want to do activities that are unrelated to the facts they are learning. The great news is that this type of child generally excels with traditional math programs.
About the author:
Leanna Zimmerman holds a BA in Secondary Education with a focus on math. Currently she homeschools her four children, ages: 13, 11, 8, and 5. You are invited to subscribe to her blog, Navigating Homeschooling.
Report this resource to TPT