Mystery Sentence Digital Game Show BUNDLE (Levels 1-4) - Distance Learning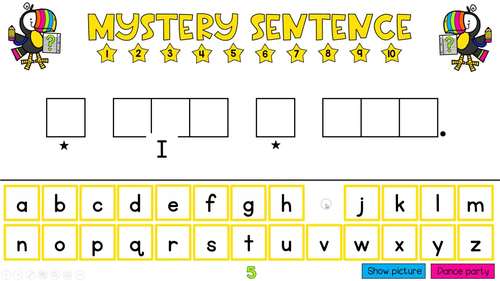 ;
What educators are saying
We used this as a Friday fun day activity. The students loved playing this and were engaged and excited.
Products in this Bundle (4)
Description
Mystery Sentence is a version of Hangman that you can play in your classroom on an interactive white board or projection unit - or for distance learning, using the screen share feature in Zoom or your video conferencing app of choice.
This game is an excellent way to review & reinforce sight words, CVC words, vowels & consonants, and sentence features (they start with an uppercase, have spaces between words, and end with punctuation).
Note: The video preview above shows the PowerPoint version. Google Slides does not have the capability to make the letters move automatically when you click on them as it shows in the video. You will need to do it manually - but your students will still LOVE to play this game!
How to play:
A student guesses a letter, and the teacher removes that letter from the board. If there's another letter underneath, it's in the sentence and gets moved up to its place. If there isn't another letter underneath, it's not in the sentence and one of the 10 stars at the top gets removed.
If all the stars are removed, the game is over and the teacher wins. If students solve the sentence before they run out of stars, they win! Each game includes an optional 1 minute dance party to celebrate with.
What's included in the bundle:
20 sentence puzzles at each level for a total of 80 Mystery Sentences!
All puzzles are provided in both PowerPoint and Google Slides formats
Each puzzle includes an optional picture clue and a 1-minute dance party
Level 1 Features:
Sentences are 3-4 words long
All sight words, except 1 CVC word (or 2-letter word)
Includes the sight words: I, can, we, see, a, the, like, have, go, to
Level 2 Features:
Sentences are 4-7 words long
All sight words with 1-3 CVC words
Includes sight words from Level 1 plus: this, is, and, do, little, you, for, me, are
Level 3 Features:
Sentences are 6-9 words long
Mix of sight words, CVC words, and 4-letter short vowel words (no digraphs)
Includes sight words from Levels 1 & 2 plus: play, my, has, what, help, she, he, will, with, look
Sentences with ? and !
Level 4 Features:
Sentences are 7-11 words long
Mix of sight words, CVC words, CVCe words, and words with blends & digraphs
Includes sight words from Levels 1-3 plus: here, said, where, went, was, were, from, our
Report this resource to TPT
Standards
to see state-specific standards (only available in the US).
Demonstrate understanding of the organization and basic features of print.
Follow words from left to right, top to bottom, and page by page.
Recognize that spoken words are represented in written language by specific sequences of letters.
Understand that words are separated by spaces in print.
Recognize and name all upper- and lowercase letters of the alphabet.