Mystery Unit Interactive Notebook Google Slides Distance Learning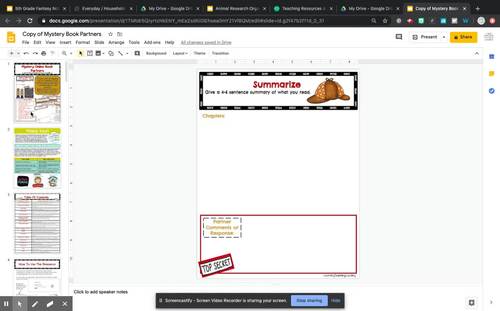 ;
Description
Mystery Unit Notebook
This mystery book unit, digital interactive notebook is perfect for book partnerships or small groups. Made in Google Slides for easy of use in the classroom or distance learning. Multiple reading strategies are included such as connections, inferring, predicting, summarizing and analyzing characters. The product is intended for online use. Students each get a copy of Google Slides and then write back and forth to each other while they read the book. Rubrics are included to help with your ongoing and final assessments.
Customer Tips:
If you are looking for an engaging way for students to read a mystery book. This resource is perfect. You can use this for partners or small groups. As students read the book they will journal to each other about various aspects of their mystery book. A link is provided for students to use this resource on Google Slide. A pdf copy is also included if you do not want to use as an online resource.
How to get TPT credit to use on future purchases:
• Please go to your My Purchases page (you may need to
login). Beside each purchase you'll see a Provide Feedback button. Simply click it and you will be taken to a page where you can give a quick rating and leave a short comment for the product. Each time you give feedback, TPT gives you feedback credits that you use to lower the cost of your future purchases. I value your feedback greatly as it helps me determine which products are most valuable for your classroom so I can create more for you. ☺
Be the first to know about my new discounts, freebies and product launches: https://www.teacherspayteachers.com/Store/Learning-Teaching-Leading
• Look for the green star next to my store logo and click it to become a follower. Voila! You will now receive email updates about this store. ☺
*****************************************************************************
Teaching Duration
3 Weeks
Report this resource to TPT
Standards
to see state-specific standards (only available in the US).
Describe characters in a story (e.g., their traits, motivations, or feelings) and explain how their actions contribute to the sequence of events.
Refer to details and examples in a text when explaining what the text says explicitly and when drawing inferences from the text.
Describe in depth a character, setting, or event in a story or drama, drawing on specific details in the text (e.g., a character's thoughts, words, or actions).
Quote accurately from a text when explaining what the text says explicitly and when drawing inferences from the text.
Read closely to determine what the text says explicitly and to make logical inferences from it; cite specific textual evidence when writing or speaking to support conclusions drawn from the text.