NAPLAN Numeracy - Practice Tests Year 3 - Daily Maths Worksheets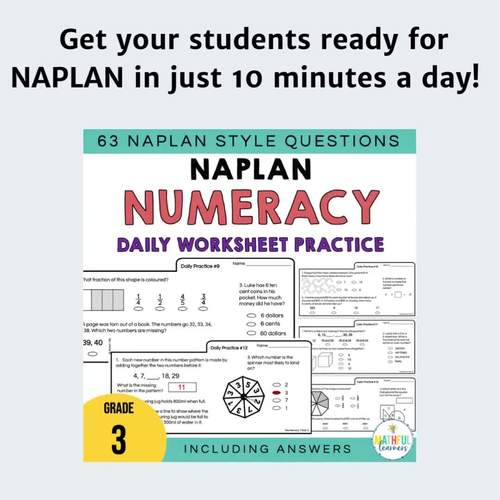 ;
Also included in
Get your students ready for NAPLAN tests in just 10 minutes a day! As Naplan testing approaches in Australian schools, the nerves start to kick in. Never fear, my daily year 3 practise tests are here! Including both numeracy and language arts daily practise tests and a maths powerpoint and write the

Price $9.00

Original Price $12.95

Save $3.95
Description
Prepare your Year 3 class for NAPLAN the easy way with this NAPLAN Numeracy practice test worksheet pack. With 3 questions each day for 21 days, grade 3 students are exposed to the topics covered in Naplan, types of questions and terminology used. Taking only 10 minutes a day, your year 3 students can complete the maths worksheet, then spend some time, as a class, going through each question with students.
Specifically designed for Year 3 students, matching the Australian Curriculum Numeracy Standards.
21 days of worksheets with 3 questions per day
full set of Answers
The daily worksheets are included within this document in two different forms. The first is 3 days to a page in sequential order. The second is 3 copies of the same day on the same A4 sheet. Please only print out and photocopy the one that suits your situation the best.
Please see the preview for more information
Designed to make life easier for YOU, with NO PREP, this pack will settle nerves and help students enter their Naplan numeracy test with greater confidence. Integrate your NAPLAN practise into your classroom without causing disruption to the rest of your learning!
Through your guidance, students will learn terminology, how to answer multiple choice questions, ease of questions and the importance of reading all the critical information.
Save 30% and download my Year 3 Naplan Resources bundle containing 3 timesaving activities that will help you prepare for Naplan in 10 minutes a day!
Looking for more NAPLAN resources? Try:
☁︎ Naplan Gr 3 Maths Powerpoint and Write the Room activity
☁︎ Naplan Gr 3 Maths daily practise worksheets
If this NAPLAN Numeracy resource is the perfect fit for your Year 3 classroom, you will also love:
⭐ NAPLAN Language Conventions - Practice Tests Year 3 - Daily Worksheets
⭐ NAPLAN MATHS - Numeracy Year 3 Practise Tests - Digital & PDF file
⭐ Naplan Numeracy and Language Conventions Test Preparation Bundle Year 3
Get free TpT credits for future purchases!
If you like this resource, then I'd love to hear from you! Select "My Purchases", choose ratings and leave feedback and you will receive free credits to be used on your next TpT purchase.
Want 50% off all new releases for the first 24 hours? 
Follow Me so you are the first to know!
Thank you!
Let's Connect
Follow me on Instagram, Facebook and visit my website Mathful Learners for more great tips to use in your classroom.
_____________________________________________
COPYRIGHT ©Alison Hislop of Mathful Learners
Permission for personal use in a single classroom. Please purchase additional licenses for use in multiple classrooms.
Teaching Duration
1 month
Report this resource to TPT