NGSS Physical Science Phenomenon Video Mini Lessons---Distance Learning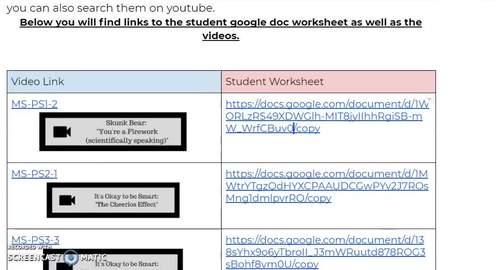 ;
PDF

Google Apps™

Internet Activities
Includes Google Apps™
The Teacher-Author indicated this resource includes assets from Google Workspace (e.g. docs, slides, etc.).
Description
UPDATED AUGUST 2020! Now fully digital for the perfect asynchronous activity.
Use these video guides to introduce new NGSS standards and engage students with phenomenon! Each video guide contains three sections for your students to Think, Speak, and Write like a scientist.
In the Think section, students will answer a pre-video question and then stay engaged by answering questions during the video. After watching, the students will practice speaking like a scientist with their peers to help them make sense of what they saw. Finally, students will show that they understand by answering a writing prompt. Total time per worksheet is approximately 15 minutes.
Video guides included for MS-PS1-2, MS-PS2-1, MS-PS3-3, MS-PS3-5 and MS-PS4-1
Looking for more standards? Try these videos: Systems and Subsystems in Earth and Life Science
Teach students to ask questions with this: NGSS Science and Engineering Practices Asking Questions
More video guides coming soon!
Report this resource to TPT
Standards
to see state-specific standards (only available in the US).
Use mathematical representations to describe a simple model for waves that includes how the amplitude of a wave is related to the energy in a wave. Emphasis is on describing waves with both qualitative and quantitative thinking. Assessment does not include electromagnetic waves and is limited to standard repeating waves.
Analyze and interpret data on the properties of substances before and after the substances interact to determine if a chemical reaction has occurred. Examples of reactions could include burning sugar or steel wool, fat reacting with sodium hydroxide, and mixing zinc with hydrogen chloride. Assessment is limited to analysis of the following properties: density, melting point, boiling point, solubility, flammability, and odor.
Apply scientific principles to design, construct, and test a device that either minimizes or maximizes thermal energy transfer. Examples of devices could include an insulated box, a solar cooker, and a Styrofoam cup. Assessment does not include calculating the total amount of thermal energy transferred.
Construct, use, and present arguments to support the claim that when the kinetic energy of an object changes, energy is transferred to or from the object. Examples of empirical evidence used in arguments could include an inventory or other representation of the energy before and after the transfer in the form of temperature changes or motion of object. Assessment does not include calculations of energy.
Apply Newton's Third Law to design a solution to a problem involving the motion of two colliding objects. Examples of practical problems could include the impact of collisions between two cars, between a car and stationary objects, and between a meteor and a space vehicle. Assessment is limited to vertical or horizontal interactions in one dimension.