NO PRINT Community Helpers Language Activities Pack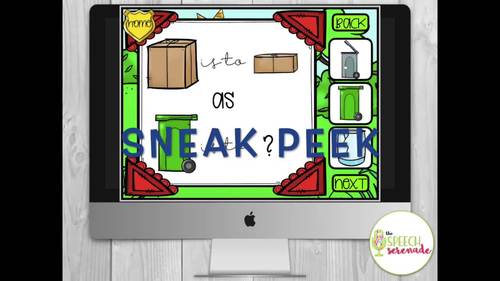 ;
Compatible with Digital Devices
The Teacher-Author has indicated that this resource can be used for device-based learning.
Also included in
Want a new NO PRINT language activity themed for you for an entire year? Relational vocabulary, parts of speech, and inferential thinking are taught through structured tasks and made fresh through a variety of themes in this ALL YEAR CLUB. By joining the club (i.e., purchasing this BUNDLE), you'll

Price $69.60

Original Price $87.00

Save $17.40
Description
Stop, drop, and learn syntax, semantics, morphology and more! With this accessible community helpers theme, students will love learning language with this NO PRINT, interactive, iPAD-friendly activity pack. Although this pack was created with a virtual classroom in mind, you'll love the NO PREP and NO PRINT stimuli at your fingertips in your face-to-face classroom as well! And for keeping those little minds active and engaged, there is a BONUS GAME where they can go on an interactive "Mail a Package." Check out the Video PREVIEW above for a sneak peek!
**Join the All Year Club and BUY as a GROWING BUNDLE to save $$$$**
What makes this interactive and user-friendly? Click the "home" button to return to the main navigation page. Click the "next" button to continue to the next page, or make a selection from the listed options. Click the "back" button to return to the previous screen. In the BONUS GAME "Mail a Package" students will choose a letter or box; a stamp/item to mail; and "stamp" their approval for sending.
This pack contains the following:
15 pages of Analogies with Pictured Choices
30 pages of Pronouns (Subjective, Objective, Possessive)
15 pages of Prepositions
15 pages of Descriptions (Compare & Contrast)
15 pages of Inferences with Pictured Choices
15 pages of Plurals (10 Regular, 5 Irregular)
15 pages of Verb Agreement with Subject Reference
BONUS GAME Doctor Visit
Please ask any questions you may have before purchasing.
If you would like to try a free NO PRINT activity before purchasing check this ABRIDGED Language Pack out:
NO PRINT Back to School Language FREEBIE
If you like this product, you may want to try out these NO PRINTs:
NO PRINT Lifeguard Social Skills
NO PRINT Pet Resort Language - Verbs
JOIN my on my #virtualslplife JOURNEY:
If you download, use, and enjoy this product, please SHARE your THOUGHTS when you Leave Feedback! Thank you!
-Angela Hancock, MSP, CCC-SLP
Report this resource to TPT