NO PRINT Directing Your Tone of Voice Middle & High School Inferences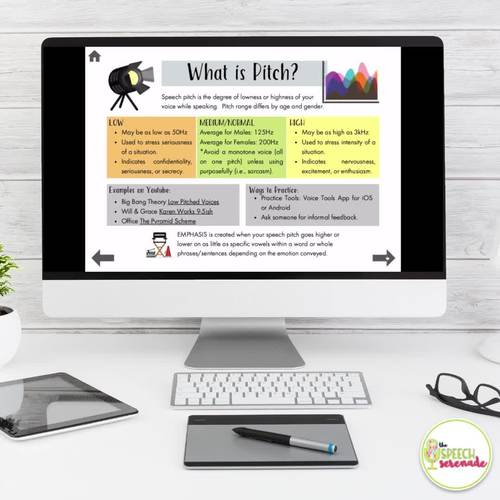 ;
Easel Activity Included
This resource includes a ready-to-use interactive activity students can complete on any device. 
Easel by TPT is free to use!
Learn more
.
Compatible with Digital Devices
The Teacher-Author has indicated that this resource can be used for device-based learning.
What educators are saying
This resource provided an easy, very structured way to talk about tone with my middle school students who have difficulty interpreting tone and other forms of nonverbal communication
LOVE THIS PRODUCT! I haven't found other products like this online, so it was so nice to find this for use with my students. They enjoyed the different situations given.
Description
Do you find it difficult to teach tone of voice? Do you find that the instructions your giving sound vague and too abstract? This interactive PDF provides instructions for tone of voice vocabulary including practice tools, video examples, and quantifiable measures for concrete thinkers. Additionally, the social scenes and scenarios take ONE phrase in THREE difference contexts to solidify how tone of voice changes in different contexts.
Have middle school and high school students in mixed groups with students who need help with inferences, figurative language, and complex sentences? There's an activity on each page for these students as well, making this resource perfect for mixed groups.
What's included in this resource? CHECK OUT the VIDEO PREVIEW for a sneak peek:
Instructions for Tone of Voice Vocabulary: Rate, Pitch, Volume, Prolongation
Instructions for Oxymorons and Complex Sentences
Instructions for Types of Tone of Voice: Sarcastic vs. Sincere, Formal vs. Casual, Respectful vs. Irreverent, and Enthusiastic vs. Matter of Fact
30 Scenarios with REAL Picture Scenes for Analyzation and Expression
What makes this resource interactive and user-friendly?
Use the navigational arrows and "home" button to move back and forth between sections with ease. Use the clickable check boxes and fillable text boxes OR your platform's annotation tools.
YOUR BOOM CARDS™ version:
You will download a PDF version of the activity containing the interactive PDF. The second page contains a button to click which will take you to the Boom Learning website to redeem the Boom Cards version.
Please ask any questions you may have before purchasing.
If you would like to try a free NO PRINT activity before purchasing check this ABRIDGED Language Pack out:
NO PRINT Back to School Language FREEBIE
If you like this product, you may want to try out other resources:
NO PRINT Communicating Compound and Complex Sentences BUNDLE
Conversation Evaluation for Google Sheets
NO PRINT How to Emoji in Conversations
JOIN my on my #virtualslplife JOURNEY:
If you download, use, and enjoy this product, please SHARE your THOUGHTS when you Leave Feedback! Thank you!
-Angela Hancock, MSP, CCC-SLP
Report this resource to TPT