NUMBERS TO 20 MATH PRINTABLES | NUMBER SENSE | NUMBER RECOGNITION AND COUNTING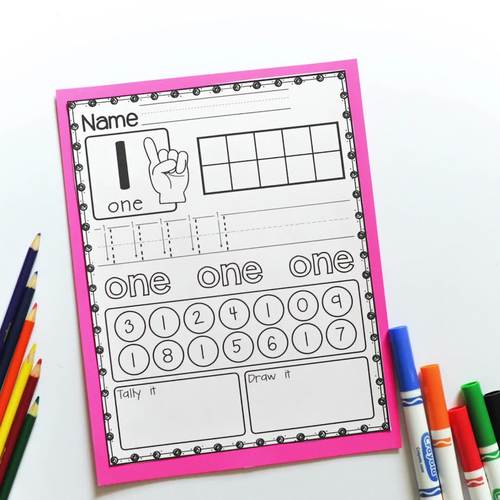 ;
Description
Looking for a quick review, assessment or morning work activity on number recognition and counting?
The Numbers to 20 number sense printables are a great tool for your learners to
explore the numbers 0-20. These printables include a ten frame, number tracing, rainbow writing, number identification, tally marks and one-to-one correspondence.
___________________________________________________________________
Check out these related products…
⭐️ Numbers to Twenty Activities
___________________________________________________________________
CUSTOMER TIPS
How can I see what is new in the MJCS store?
Be the first to know about new discounts, freebies and new products. Look for the green star next to the MJCS store logo and click it to become a follower of my store. You can also subscribe to our newsletter here to receive access to resources only available to MJCS subscribers, as well as, special offers and ideas!
How can I get credit for my TpT purchases?
Go to your account button at the top of the page. Under the "Buy" section, click "My Purchases ". Beside each purchase you'll see a Provide Feedback button. Simply click the button and you will be taken to a page where you can give a quick rating and leave a comment for the product. Each time you give feedback, TpT gives you feedback credits that you use to lower the cost of your future purchases. Please leave detailed feedback for each resource, so we are able to create better resources for teachers and students.
What can I do if I have a question about a resource?
If you have any questions regarded a resource before purchasing please email me at mrsjonescreationstation[at]gmail.com. Once you have purchased the resource you may use the "Product Q & A" tab on the product page to ask a question, as well.
How do I know if a resource has been updated?
Go to your account button at the top of the page. Under the "Buy" section, click "My Purchases ". Choose to "sort by: recently updated" to see what resources have been updated since you downloaded them last. You can download any updates from there. If a file has been updated, you will see a notification under the resource that says "Newly Updated – Download for Free!".
___________________________________________________________________
TERMS OF USE
This item is a paid product created by Mrs. Jones' Creation Station, Inc. Copying any part of this product, redistributing, selling or placing it on the internet in any form is strictly forbidden and is a violation of the Digital Millennium Copyright Act (DMCA). Thank you for respecting our work!
© Mrs. Jones' Creation Station, Inc.
Report this resource to TPT
Standards
to see state-specific standards (only available in the US).
Count to 100 by ones and by tens.
Write numbers from 0 to 20. Represent a number of objects with a written numeral 0-20 (with 0 representing a count of no objects).
Understand the relationship between numbers and quantities; connect counting to cardinality.
When counting objects, say the number names in the standard order, pairing each object with one and only one number name and each number name with one and only one object.
Understand that the last number name said tells the number of objects counted. The number of objects is the same regardless of their arrangement or the order in which they were counted.