Naming Compounds Crossword Puzzle Chemical Nomenclature Review Activity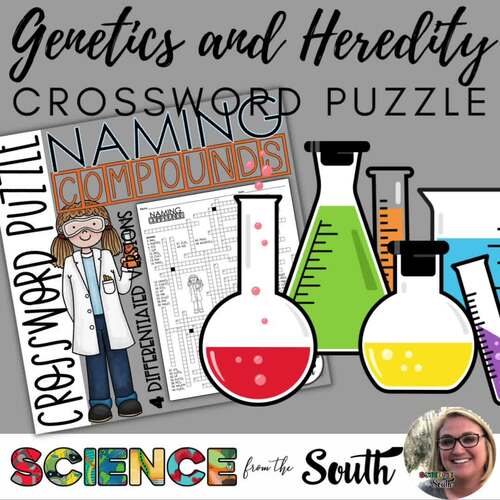 ;
Easel Activity Included
This resource includes a ready-to-use interactive activity students can complete on any device. 
Easel by TPT is free to use!
Learn more
.
What educators are saying
I love this idea! For some reason my students really struggled with this. It may have been an anomoly. I'm definitely going to use this again for the upcoming school year.
I love giving this to students as they finish quizzes or tests early. Was also great for students to get familiar with the elements at the beginning of the year!
Also included in
Do you need a huge bundle of printable and digital activities and assessments that help your students learn about naming and writing formulas for ionic, covalent, and acidic compounds? You get huge savings, over 30% off, and an abundance of resources with this bundle that is perfect for Chemistry a

Price $32.00

Original Price $46.25

Save $14.25

Extra time is not something that we teachers have an abundance of. Save the time that you do have with this BIG bundle of chemistry activities and assessments. You will receive all Science from the South Chemistry resources in this bundle for teaching, reinforcing, and assessing your students abou

Price $100.00

Original Price $172.75

Save $72.75
Description
Your students can show their ability to name ionic, covalent, and acidic compounds. But, what if they could complete a chemical compounds naming puzzle while doing so? This naming chemical compounds crossword puzzle activity is a perfect test review, practice assignment, or assessment with three levels of differentiation to meet students' needs at their individual level or ability. As the teacher, you simply print and go with the no-prep, ready to use resource. Or, assign the resource digitally in TpT Easel. Your students use chemical formula clues and chemical nomenclature rules for naming ionic, covalent, and acidic compounds to solve the crossword puzzle.
So, download the naming compounds crossword puzzle chemistry review activity, now. The printable is just what you need to add to your Chemistry lesson plan to engage your high school students in a meaningful and rigorous learning activity while impressing your administrators. What are you waiting for? Print and go! Or assign the digital crossword puzzle assessment and watch your chemistry students have fun while learning reviewing what they have learned from your chemical nomenclature unit.
You Will Get:
A no-prep, printable pdf resource download.
A table of contents for organizing and printing.
3 differentiated versions of the puzzle (simplified versions include additional letters on the crossword puzzle as clues).
Additional crossword puzzle with alternate sulfur compounds spelling.
A how to guide with ideas on engaging your students into the activity, use of the resource, further differentiation, and more.
Answer key
TpT Easel activity.
You Will Like:
Naming Ionic Compounds Worksheet
Naming Compounds Domino Puzzle Activity
Naming Compounds Tarsia Puzzle
BIG Bonding and Naming Bundle of Activities and Assessments
BIG Chemistry Curriculum Bundle of Activities and Assessments
Feedback and Followers:
Did you know that you can receive credit towards future TpT purchases by reviewing this product? Leave a review at the product page after you download the resource or through "My Purchases". Use your TpT credits that you earn to purchase other resources. 
Do you want to be the first to know about new resources, sales, and free resources? Sign-up here to get email notifications and my Mix it Up Activities and Assessment eBook with templates. And don't forget to click the green star next to my store logo to become a follower. Connect in other ways using the links below! We love to see resources in action. Share them at @sciencefromthesouth to receive a FREEBIE!
Happy Teaching! 
Heather 
Report this resource to TPT