Narrative Writing Technique Prompts - 200+ Daily Quick Writes for Middle School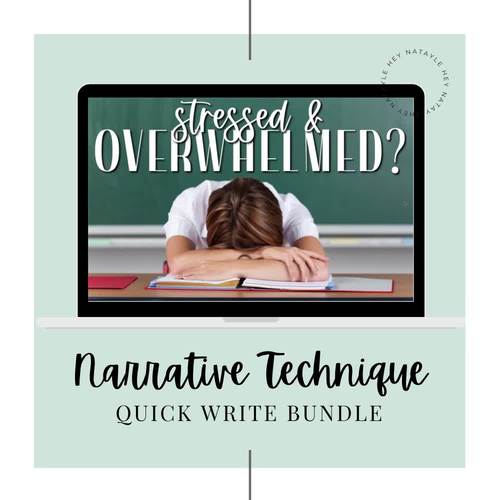 ;
Zip

Google Apps™
Includes Google Apps™
This bundle contains one or more resources with Google apps (e.g. docs, slides, etc.).
Easel Activities Included
Some resources in this bundle include ready-to-use interactive activities that students can complete on any device. 
Easel by TPT is free to use!
Learn more
.
What educators are saying
I love utilizing these writing prompts with my middle schoolers. They are super easy to implement, and my students enjoy completing the writing tasks.
I love this resource not only was in helpful to me the teacher, but the students found it easy to use.
Products in this Bundle (7)
showing 1-5 of 7 products
Description
Get access to over 200 Narrative Writing Prompts that will accelerate your middle school students' writing abilities! These ready-to-use daily quick writes focus on various narrative techniques, including dialogue, imagery, perspective, characterization, and more.
Check out the PREVIEW to see everything included, and download a FREE sample here.
Using these narrative technique writing prompts each day will help your students improve their writing skills through a combination of routine writing & the spiral review of narrative techniques. Students will love writing responses to the sentence starters, thought prompts, mentor texts, and visual writing prompts!
This Narrative Quick Write Bundle Focuses On:
⭐️
⭐️
⭐️
⭐️
⭐️
⭐️
⭐️
Use these daily quick writes as writing warm-ups throughout the year or pick-and-choose prompts throughout your narrative writing unit. You can also use them in your remedial reading & writing courses!
Each set of narrative writing prompts includes:
Sentence Starters (By the time the guests arrived...)
Mentor Texts (Example: Imitate how the author uses hyperbole to express emotion...)
Visual Writing Prompts (Tell me how the instrument really feels…)
Prep is quick and easy... Just display the writing prompt on your projector or SmartBoard and have students write in their notebooks, or assign your daily quick writes on a digital learning platform and have students type on the provided slides.
A quick tip for teachers...
Read the narrative writing prompt, and set the timer for 5-10 minutes. 
Encourage students to keep their pencils moving the entire time.
Don't be afraid to write alongside them!
At the end of the daily quick write session, invite students to discuss or share their thinking.
In my classroom, we start our daily writing lesson with a quick write prompt! We use a wide variety of prompts throughout the year to spiral review our writing techniques.
»If you'd like to know more about using quick writes in the classroom, read my blog post here.
___________________________________
TEACHERS LIKE YOU SAID…
⭐️⭐️⭐️⭐️⭐️ Steelers Fan says, "I use these every morning as our warm-ups. Definitely helping my students improve their writing."
⭐️⭐️⭐️⭐️⭐️ Sharmane N. says, "Love your quick writes!!!"
___________________________________
Have a question?
Please check out the Q & A section or email me at info@heynatayle.com.com. I'll get back to you within 24 hours.
Don't forget to leave me feedback! I love to hear what my buyers have to say, how the product worked for them, and any feedback I can use to improve my product! (It also earns you points towards future TPT Purchases)
✔️ Follow me to be notified when I've posted new products. New products are always 50% off for the first 48 hours!
✔️ Subscribe to my NEWSLETTER for tips, ideas, and activities that make teaching middle school ELA feel engaging and purposeful.
Thanks so much,
Natayle Brown
___________________________________
Copyright © Hey Natayle.
Permission to copy for single classroom use only.
Please purchase additional licenses if you intend to share this product.
Answer Key
Does not apply
Teaching Duration
1 Semester
Report this resource to TPT
Standards
to see state-specific standards (only available in the US).
Engage and orient the reader by establishing a context and introducing a narrator and/or characters; organize an event sequence that unfolds naturally and logically.
Use narrative techniques, such as dialogue, pacing, and description, to develop experiences, events, and/or characters.
Use a variety of transition words, phrases, and clauses to convey sequence and signal shifts from one time frame or setting to another.
Use precise words and phrases, relevant descriptive details, and sensory language to convey experiences and events.
Write routinely over extended time frames (time for research, reflection, and revision) and shorter time frames (a single sitting or a day or two) for a range of discipline-specific tasks, purposes, and audiences.