National Parks Language Activities for Speech Therapy Vocabulary Digital PDF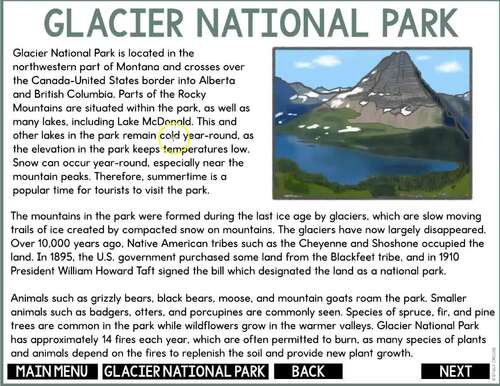 ;
What educators are saying
This has been such a lifesaving activity to use with my middle school students! It targets their goals, is interesting, and gets them excited. It's perfect!
One of the best resources I have used for my middle schoolers. After we read about a specific park, we use google earth to explore everything we read about.
Description
Working on LANGUAGE goals with your MIDDLE SCHOOL caseload in speech therapy does not have to be boring! This digital PDF teaches students about U.S. national parks through interesting PASSAGES that are accompanied by interactive language ACTIVITIES.
Each of the 7 age-appropriate passages details a national park, and is followed by 5 questions for of the following language goals:
✅ Answering COMPREHENSION questions
✅ Determining the meaning of VOCABULARY IN CONTEXT
✅ Identifying word SYNONYMS
✅ Identifying word ANTONYMS
✅ Making INFERENCES based on the text
Take a break from planning! Not only does the shared passage context make this resource wonderful for mixed groups of students with different goals, but there's plenty to do across multiple sessions!
Each of the 7 national park passages (Acadia, Glacier, Great Smoky Mountains, Olympic, Rocky Mountain, Yellowstone, and Yosemite) can be paired with a YouTube video to dive a little deeper into the topic. And for homework or students that need a little challenge, 4 EXTENSION ACTIVITIES are included.
You'll get tons of engagement from your older students, thanks to...
✅ The HIGH-INTEREST TOPICS that lead to lots of discussion
✅ The digital format, which includes CLICKABLE BUTTONS and FILLABLE TEXT BOXES built right into the PDF
✅ AGE APPROPRIATE information and images that won't offend your middle school students (or high school students in some cases!)
No printing needed! This interactive activity can be quickly accessed on any digital device:
⚡Open on your COMPUTER using a PDF reader (such as Adobe Reader)
⚡Screenshare the PDF in TELETHERAPY
⚡Open on an iPAD or other tablet using a PDF reader app
⚡Display on a SMARTBOARD for a group or whole class activity
Want to give it a try? Download a FREE SAMPLE!
SLPs and teachers are saying...
⭐⭐⭐⭐⭐ Amy B. says, "This is a great resource for both in-person and virtual therapy. It's well organized and very comprehensive. It's great for virtual field trips. It can be used to cover a variety of targets. The information is engaging and informative."
⭐⭐⭐⭐⭐ Emily S. says, "LOVE THIS RESOURCE! Such interesting information and easy to use online! It's also great for expansion-- I can use the vocab here to work on creating sentences or we can use the companion resource to look at the websites. Lots of great content."
Get MORE IDEAS for using a National Parks theme in speech therapy!
Report this resource to TPT